Occipital neuralgia can be a miserable pain in the back of the head, discussed in much greater detail here. If you're reading this blog article, you're likely very familiar with this type of severe unrelenting pain. Occipital neuralgia can certainly be milder and more of a nuisance, but for many patients the pain is severe enough to affect daily life and the ability to function normally.
Sometimes there may also be some associated cervicogenic headache, but most of the time occipital neuralgia occurs by itself. Many patients try all the typical headache preventive treatments such as neck physical therapy, antiseizure (such as Gabapentin and Pregabalin) and antidepressant (such as Amitriptyline and Duloxetine) medications (among others), which either didn't help, or weren't tolerated because of side effects. Patients often feel like there isn't anything else to try.
It is very common to see patients with occipital neuralgia also dealing with frequent migraine and chronic migraine, driven and fueled by the occipital neuralgia (or as I explain it, like pouring gas on the fire).
For those patients who also have migraine associated with their occipital neuralgia, it is important that they have an adequate abortive (as needed) therapy such as a gepant, ditan, triptan, DHE, or neuromodulation device. A preventive treatment should also be used such as a daily pill, a monthly/quarterly CGRP monoclonal antibody (Aimovig, Ajovy, Emgality, Vyepti) treatment, a gepant, Botox, neuromodulation device, herbal and natural supplements and vitamins, yoga and meditation, and acupuncture and acupressure.
Unfortunately, many of these abortive and preventive therapies targeting the migraine component are minimally or not effective for the occipital neuralgia component. If the occipital neuralgia component is prominent, it is always worth making that your primary target because it could be driving the chronic intractable migraine.
As an example of this, I had a patient who was absolutely miserable, unable to function normally (partly from pain, partly from medication side effects), and stuck in chronic daily headache and chronic migraine with severe occipital neuralgia, spending most of the day in bed. She was also in medication overuse headache (rebound headache) from multiple medications including NSAIDs, triptans, and opiates/narcotics. Underlying all of these chronic migraine and rebound headache issues was severe occipital neuralgia. Eventually she was sent for an occipital nerve decompression evaluation, had the surgery, and quickly became a completely new person with infrequent migraines, no more occipital neuralgia, and no need for ongoing daily pain medicine which was driving her rebound headache. It was an amazing turn around and I know many potential patients in a similar situation are out there. That's why I felt it was important that we cover this topic of occipital nerve decompression today.
Have you heard of "occipital nerve decompression", but aren't sure where to find accurate information on it? Would you like to have an expert in occipital nerve decompression surgery answer your questions? If so, this article should answer every question you might have about occipital nerve decompression.
Given the frequency of refractory occipital neuralgia to standard treatments often seen in the headache clinic, I have invited one of my colleagues, Dr. Ali Totonchi to contribute to this blog article in a question-and-answer format. Dr. Totonchi is very experienced in occipital nerve decompression for occipital neuralgia, and I have sent several patients to him with great success. I have given him a list of topics and common questions that patients often have regarding occipital nerve decompression surgery, and his responses are seen below.
Following the Q+A below, you can find Dr. Totonchi's professional bio and contact information should you have further questions or interest in scheduling an evaluation with him.
What is the history of occipital nerve decompression and how long has it been done?
Nerve decompressions for treatment of headache in general and especially decompression of greater occipital nerve dates back to 1999-2000. A patient who underwent cosmetic procedure for forehead rejuvenation reported improvement of her migraine headache. She was a patient of Bahman Guyuron, MD who underwent endoscopic forehead lift and removal of corrugator muscles. This procedure is done cosmetically to improve the frowning lines. To do this procedure, the muscles, vessels and fascial bands are released around the supraorbital and supratrochlear nerves and inadvertently we "decompress these nerves".  After this initial report, Dr. Guyuron investigated other possible nerves that could be under pressure and cause headache and introduced multiple procedures including decompression of the greater occipital nerve.
Are there a lot of surgeons that do occipital nerve decompression? How can I find one that does?
For a decade after this discovery there were only handful of surgeons performing these procedures. At that time I was under training with Dr. Guyruon and we had yearly courses in Cleveland, Ohio. Later we transferred the course to our plastic surgery national meeting and targeted more surgeons for training. Later we founded a society called Migraine Surgery Society (MSS). Currently, I am the President Elect for this society and will be leading this society for the year of 2023. In the Society's website patients can locate surgeons in their geographical area (www.migrainesurgerysociety.org). Dr. Guyuron and I do surgeries in Cleveland, Ohio, and San Diego, California. Information for the surgeries can be found at migrainesurgery.com andmigrainesurgery.org. We also have hundreds of people yearly travelling to Cleveland to have this surgery.
How does occipital nerve decompression relieve pain?
The occipital nerves are located at the back of the head. There is one on each side. Each one passes through a muscle called Semispinalis and then through Trapezius muscle fascia. The greater occipital artery also travels with the nerve and pulsates over the nerve in a small tight area. All these irritation spots can act as a compression point for the greater occipital nerve in susceptible patients. During surgery we explore all these compression points and release them one by one.
Can patients usually stop taking or decrease the dosage of pain medications after occipital nerve decompression?
This is great question, overall, 80-90% of the patients have a positive response to surgery in a well selected group, meaning, at least 50% reduction in intensity and severity of headaches. Following the surgery and improvement or elimination of headache, patients can be weaned off their medication. This is where the collaboration of a headache specialist and surgeons are very important, since most of the surgeons are not trained to adjust the dose of these mediations or stop them.
How much pain relief is usually seen with occipital nerve decompression?
Pain relief can range from minimal response to complete elimination of pain.
How often does occipital neuralgia pain return after occipital nerve decompression?
In initial reports recurrence of the pain or failure are reported in 10-20% of the patients.
How often does occipital nerve decompression have to be repeated?
Most of the reoperations are because of pain coming back in a different location or nerve. Reoperations on the same nerve are not that common and it is around 10%.
What patients and clinical features make the best candidates for occipital nerve decompression?
The best candidates are the patients who have failed the medical treatment. They also have localized pain in a way that they show the location of pain with one finger and are not on chronic use of narcotics, and do not have medication overuse headache (rebound headache).
Are there any tests or trials (such as occipital nerve blocks, or Botox) that can help predict who may respond best to occipital nerve decompression?
On top of best patient selection, which was discussed in previously, positive response to occipital nerve block has been shown to be a positive predictor to surgical response. A positive response to Botox injections also has positive predictive value, but in comparison to occipital nerve blocks it takes longer to see the results.
Are there patients with occipital neuralgia who may not be good candidates for occipital nerve decompression? If so, what might be some of those clinical features?
Yes, like any other surgery there are perfect and not perfect candidates for the procedure. Patients who do not have localized pain in the occipital area are not good candidates, nor are patients who have drug dependencies or have medication overuse headache (rebound headache).
How is occipital nerve decompression done, how long does it take, where is the location of the surgery, and what type of anesthesia is used?
Surgery is usually done under general anesthesia. The incision is in midline over the lower back of the head measuring around 4 cm. There are two greater occipital nerves, one on each side. Depending on how many nerves we must operate on, surgery takes between 1-2 hours.
The following illustrations (Figures 1-6) show the step-by-step process of greater occipital nerve decompression. Figures 7 and 8 show an intraoperative photo of the greater occipital nerve both before and after decompression surgery, respectively.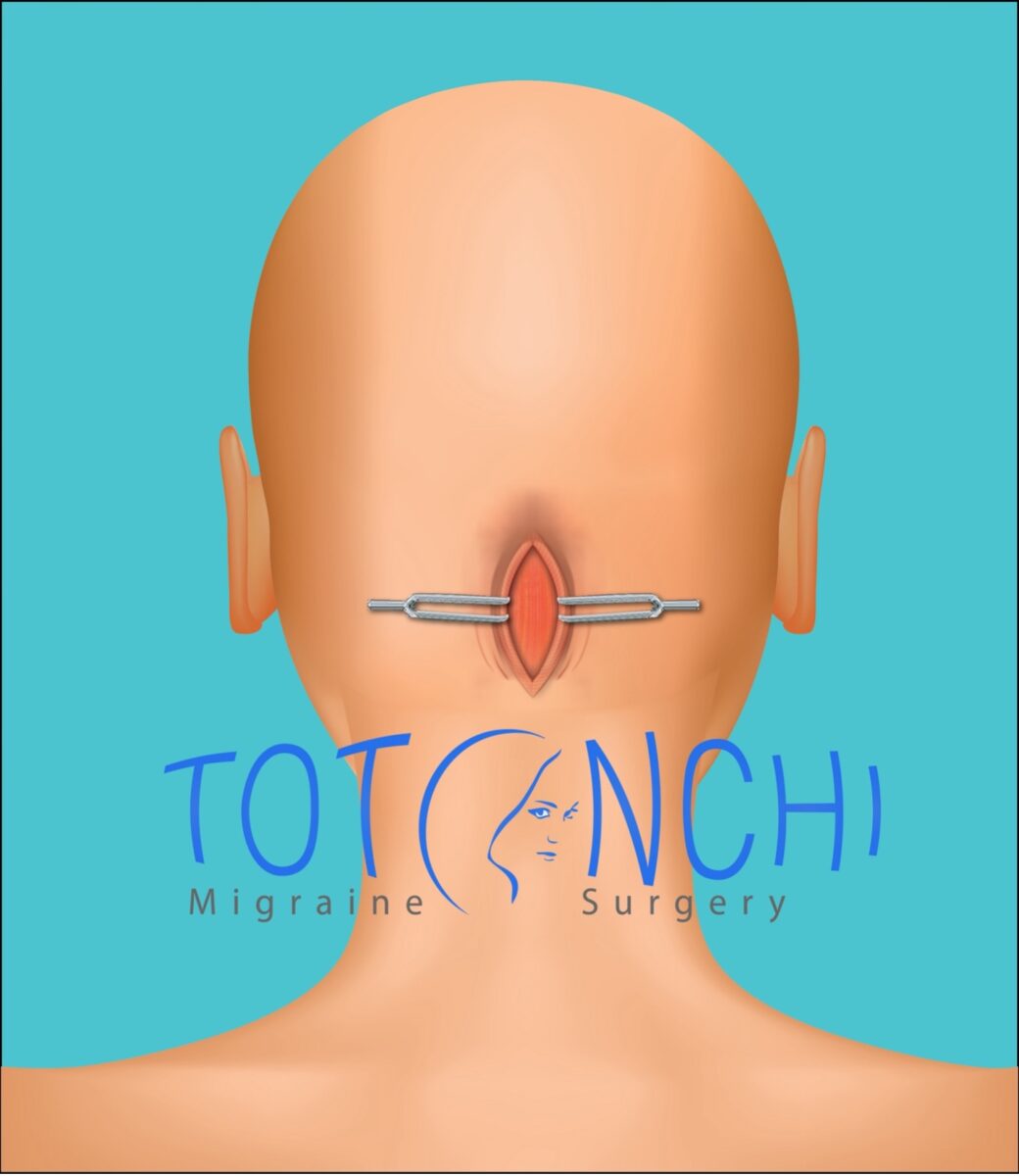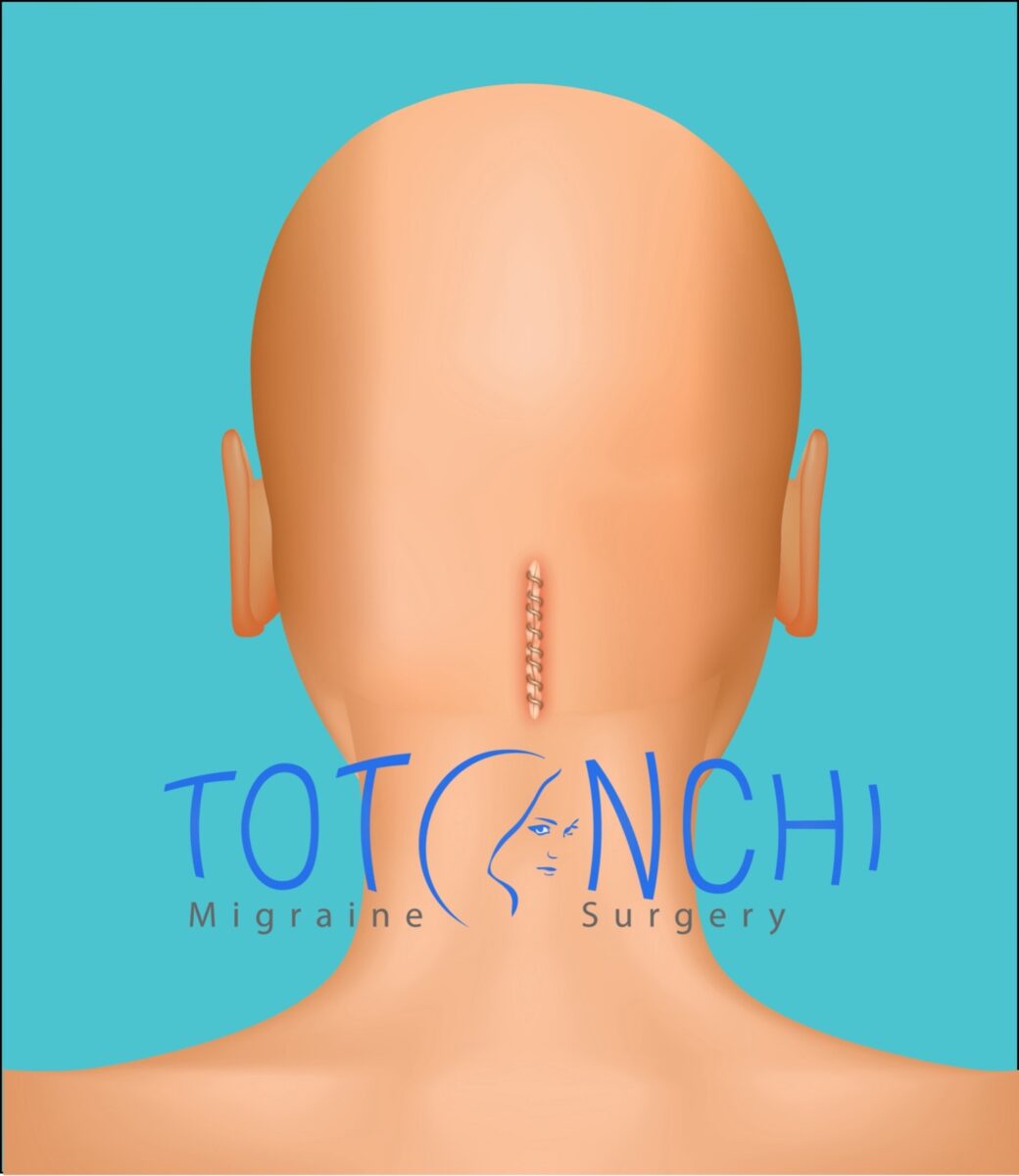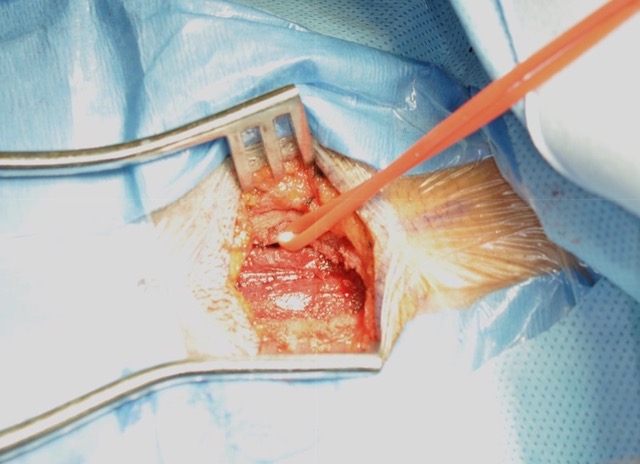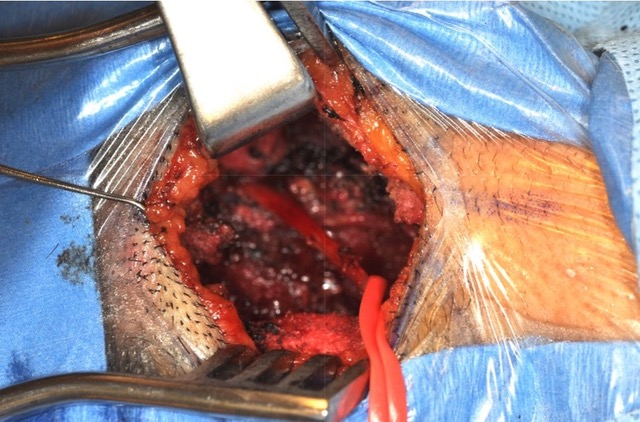 Is occipital nerve decompression an outpatient surgery and can patients go home the same day?
This an outpatient surgery and patients usually go home same day unless there is an associated disease which requires the observation of the patient after surgery, like sleep apnea.
What is the recovery time for occipital nerve decompression?
Patients usually have a small drain which is removed in 4-5 days after surgery. In few weeks after surgery patients have mild surgical pain combined with numbness of back of the head. They usually return to normal activity in a week or two and in 2-3 months we can see the final results.
Are there post-surgical limitations or precautions? If so, what are they and for how long?  
Not major limitations, in general they need to take it easy, no heavy exercise for 3-4 weeks, also they need to be careful about the drain until it is removed 4-5 days after surgery.
What are the possible side effects and risks of occipital nerve decompression?
Transient numbness on the area can happen which usually lasts about few weeks, rarely this numbness can be permanent. Another rare complication if development of neuroma which a painful spot at the site of surgery.
Does insurance cover occipital nerve decompression?
It varies state by state, some insurances do cover the surgery.
Are there any ongoing occipital nerve decompression research trials that I can be a part of?
I am not aware of any trial at this point, most of the trials were done more than a decade ago.
Ali Totonchi, MD
Associate Professor, Case Western Reserve University
Medical Director of Craniofacial Deformity Clinic
Private practice: 29017 Cedar Rd., Lyndhurst, Ohio, 44120
Hospital: MetroHealth Hospital
Dr. Totonchi is Associate Professor in the Department of Surgery (Plastic Surgery Division) at Case Western Reserve University. He completed his Plastic Surgery residency in University Hospitals Case Medical Center and then continued fellowships in facial cosmetic and pediatric craniofacial surgeries at the same institution. Dr. Totonchi joined MetroHealth Medical Center in 2010 where he serves as site Director of Plastic Surgery Residency at MetroHealth Hospital. He is also Medical Director of the multidisciplinary Craniofacial Deformity Clinic (CFD). Since 2020 he is working part time at MetroHealth Hospital and part time at his private practice location in Zeeba Clinic at Lyndhurst, Ohio. Dr. Totonchi uses innovative technique that was introduced by Dr. Bahman Guyuron. Dr. Totonchi gives lectures nationally and internationally.
He is active academically with research and education of residents and medical students. He is also an active member of multiple international, national, regional and local committees. He is President Elect for the Migraine Surgery Society for 2023.
He performs a wide variety of cosmetic and reconstructive procedures, including:
-Facelift, Rhinoplasty and other cosmetic surgery procedures
-Migraine surgery
-Facial Feminization Surgery
-Non-Surgical Enhancements
-Reconstructive surgery
Contact info:
Office: (440) 461-7999
Email: [email protected]
Website:
IF YOU HAVE HEADACHE, MIGRAINE, OR FACIAL PAIN AND ARE LOOKING FOR ANSWERS ON ANYTHING RELATED TO IT, A HEADACHE SPECIALIST IS HERE TO HELP, FOR FREE!
FIRST, LET'S DECIDE WHERE TO START:
IF YOU HAVE AN EXISTING HEADACHE, MIGRAINE, OR FACIAL PAIN DIAGNOSIS AND ARE LOOKING FOR THE LATEST INFORMATION, HOT TOPICS, AND TREATMENT TIPS, VISIT OUR FREE BLOG OF HOT TOPICS AND HEADACHE TIPS HERE. THIS IS WHERE I WRITE AND CONDENSE A BROAD VARIETY OF COMMON AND COMPLEX  MIGRAINE AND HEADACHE RELATED TOPICS INTO THE IMPORTANT FACTS AND HIGHLIGHTS YOU NEED TO KNOW, ALONG WITH PROVIDING FIRST HAND CLINICAL EXPERIENCE FROM THE PERSPECTIVE OF A HEADACHE SPECIALIST.
IF YOU DON'T HAVE AN EXISTING HEADACHE, MIGRAINE, OR FACIAL PAIN DIAGNOSIS AND ARE LOOKING FOR POSSIBLE TYPES OF HEADACHES OR FACIAL PAINS BASED ON YOUR SYMPTOMS, USE THE FREE HEADACHE AND FACIAL PAIN SYMPTOM CHECKER TOOL DEVELOPED BY A HEADACHE SPECIALIST NEUROLOGIST HERE!
IF YOU HAVE AN EXISTING HEADACHE, MIGRAINE, OR FACIAL PAIN DIAGNOSIS AND ARE LOOKING FOR FURTHER EDUCATION AND SELF-RESEARCH ON YOUR DIAGNOSIS, VISIT OUR FREE EDUCATION CENTER HERE.