Occipital neuralgia is a miserable nagging soreness, pain, and headache in the back of the head, often described as a base of skull headache. I tell patients to think of occipital neuralgia as "sciatica of the head".
This back of head pain is typically felt in the suboccipital region (where the base of the skull meets the top of the neck) and occipital region (back of head). It radiates variably into the back and top of the head (by the greater occipital nerve) and there is often pain behind the ear on the effected side as well (by the lesser occipital nerve). This headache in the base of the skull can less commonly even radiate to the frontal areas (by the trigeminocervical circuitry in the upper cervical spinal cord and brainstem). It can be one sided or both sides.
Occipital neuralgia pain is often described as an intense stabbing, sharp, shooting, shocking, or burning pain. It often occurs in attacks of pain which may last seconds to minutes, but can also be a continuous unrelenting pain. Sometimes it may not be as intense and may be a lower-level pain such as pressure, aching, soreness or throbbiness. The back of the head often feels very sore or tender. The pain and tenderness increases by pushing on the back of the head and along the skull bone base, or lying on the back of the head. This is a good test at home to see if you have occipital neuralgia.
Some patients may have a sensation of numbness or tingling in the back of the head. These headaches and neck pain are commonly intermingled. There may or may not be associated cervicogenic headache (headache coming from the neck) associated with occipital neuralgia.
Although patients often have isolated occipital neuralgia, I see many patients with occipital neuralgia who also have associated migraine and chronic migraine. This always creates an even more miserable feedback loop between frequent exacerbations of both the occipital neuralgia and migraine. The reason is because these two headache types influence and feed into each other.
For example, 70% of patients with straightforward episodic migraine will get neck pain and tightness at the beginning of a migraine attack. So, if someone is stuck in a smoldering cycle of chronic migraine (15-30 days per month), neck pain and occipital neuralgia are commonly associated. The flip side is if someone has structural abnormalities in the cervical spine (herniated disc, injury, whiplash, etc.), it can also be a contributor to frequent or daily headaches (especially if they have a history of migraine).
OCCIPITAL NEURALGIA CAUSES
What are the causes of occipital neuralgia? The cause of occipital neuralgia is most commonly idiopathic, meaning there isn't a specific cause. If you have had surgery or an injury to the back of the head, this can cause scarring of the tissues in the back of the head and base of the skull where the occipital nerves travel. This scarring can pull, twist, and tangle up the occipital nerves over time which causes persistent occipital pain in the back of the head.
Sometimes the cause can be from a lot of arthritis in the upper cervical spine, tight muscles through the upper neck and skull base, or following a viral illness which can cause them to become inflamed.
TREATMENT FOR OCCIPITAL NEURALGIA
What is the best occipital neuralgia treatment? Neck physical therapy should always be considered as a first line treatment. The physical therapist can instruct you on the best exercises for occipital neuralgia. The goal is to stretch out and loosen the muscles below the skull base and neck. The occipital nerves pierce directly through these muscles as they travel to the back of the scalp. So imagine what is happening to those nerves if these muscles are in a state of constant tightness and spasm. The muscles will continually squeeze and irritate the nerves traveling through them, which keeps them irritated and keeps the pain going.
Along with the neck physical therapy, I typically suggest a daily preventive medication until the patient is consistently doing much better for several months. A more detailed list of commonly used medications for occipital neuralgia can be read here. In general, typical first line options are the anticonvulsants with Gabapentin (Neurontin) being a first line medication, or the antidepressant/anxiety class of medications, with the most effective ones being Amitriptyline (Elavil), Nortriptyline (Pamelor), Duloxetine (Cymbalta) and Venlafaxine XR (Effexor XR).
If there is associated chronic migraine or frequent migraine, a migraine preventive medication or treatment should be chosen, optimally one that can be helpful for both disorders. Preventive migraine treatments include, CGRP monoclonal antibodies (mAbs), gepants (Nurtec, Qulipta), neuromodulation devices, and Botox injections. Botox injections in particular are a great consideration for the combination of chronic migraine and occipital neuralgia because it can be very effective for both. I always give additional dosing over the occipital nerves in this scenario.
If there is a migraine component (as there often is), it's always important to make sure to have a good abortive option for migraine exacerbations. NSAIDs (non-steroidal anti-inflammatory drugs) can be helpful for both migraine and the occipital neuralgia component. Diclofenac potassium tends to be one that I prefer, but some people do better with one or another, so it can be a trial-and-error process. If NSAIDs are not effective for aborting the migraine, then a more migraine specific option should be used such as a triptan, gepants such as Nurtec ODT (Rimegepant) or Ubrelvy (Ubrogepant), ditans (Reyvow), or a neuromodulation device could also be considered.
Other treatment options include occipital nerve blocks, occipital nerve stimulators, and occipital nerve decompression to detangle the occipital nerves through the scalp tissue. Most centers have moved away from occipital nerve stimulators since insurance rarely covers them and there are common problems with lead migration (leads move out of place) or lead infection.
If there is a strong cervicogenic component along with the occipital neuralgia, pain management procedures such as cervical facet blocks can also be helpful. However, if the patient has only occipital neuralgia and not much of a neck pain component, cervical facet blocks and other procedures targeting the cervical spine are typically not helpful.
OCCIPITAL NERVE BLOCKS
Occipital nerve blocks should also be considered and offered. They are easy to perform in the office, can provide quick dramatic relief, and only take a minute or so to do. These can act as both an abortive option to cool down an ongoing flare of both migraine and occipital neuralgia. It can also help to prevent the pain returning for a period of time, or making it much more tolerable. However, they are typically more of a temporary benefit (days to weeks to months). However, I have quite a few patients that can get 3 months of relief until they wear off.
I have occasionally seen patients break the cycle of occipital neuralgia for much longer, or even indefinitely, but this should not be the expectation. Unfortunately, it is hard to predict how much benefit one may have, or how long it may last. Pain relief typically occurs rapidly, often within minutes of the procedure, but full benefit should be seen by 2-3 days. There may or may not be some associated temporary numbness in the back of the scalp for part of the day as well. If they are done with steroids, they should not be repeated at intervals any less than 3 months. If they are done without steroids, there is no limitation on how frequent they can be done.
For these injections, I prefer to have the patient sitting up on the exam table with their legs hanging over 1 side. Some physicians have them sit backwards on a chair, resting their arms and head on the back of the chair. I stand on the opposite side of the exam table behind them. These are done with an anesthetic (numbing) medication such as Bupivacaine, Lidocaine, or Ropivacaine. Some physicians combine these injections with a steroid, most commonly Triamcinolone (Kenalog) or Betamethasone (Celestone).
The existing (limited) evidence suggests steroids do not add much value to occipital nerve blocks, unless they are done for cluster headache. However, anecdotally many physicians still feel patients tend to do better with steroids, which makes sense given the inflammatory component of occipital neuralgia and potent anti-inflammatory effect of steroids.
I prefer to use a small ½ inch 30-gauge needle (same as for Botox) to minimize the temporary pain of injection, although it takes a bit more force to inject the medicine through the needle. Others use a 28 or 27-gauge needle. I would suggest avoiding anything larger diameter than this since the larger the needle, the more painful the injections are.
I prefer to do 3 injections per side of occipital neuralgia (or both sides if both are affected) to ensure the occipital nerve is treated at all major points. These spots are illustrated on the photograph below. Some physicians do only 1 or 2, so this varies between physicians.
The 1st injection site is located by feeling the occipital protuberance, or inion, (bump in the middle along the skull base), and going 2 fingerbreadths down and 1 over. This is the region where the greater occipital nerve pierces through the musculature.
The 2nd injection site is located just lateral to the occipital protuberance, about 1/3rd of the way over between the occipital protuberance and the mastoid process behind the ear. Feel for a small groove in this area. This is the occipital groove, or notch, where the occipital nerve travels. The patient typically has the most tenderness over this spot as well, so it is typically quite easy to find. The occipital nerve travels along side the occipital artery, so it's important to withdraw the syringe in this location, as well as all locations, prior to injection to ensure there is no blood retraction into the syringe.
The 3rd injection site is located just behind the ear, posterior to the mastoid bone in another palpable groove. This also happens to be where the lesser occipital nerve travels.
Side effects of occipital nerve blocks are typically minimal and well tolerated. There are no limitations to activity afterwards and they will not make you drowsy. Some temporary tenderness in the sites is possible. Dizziness and nausea are infrequent brief side effects. Some patients can develop slight divots in the area of injection if steroids are used. If steroids are used, some patients can also feel more energized for a couple days, and sometimes some flushing.
Here is an example of how I do a typical bilateral (both sides) occipital nerve block procedure (following discussion of risks, benefits, alternatives, informed consent, etc.). If only one side is done, dosing can be split in two.
OCCIPITAL NERVE BLOCK PROCEDURE
A combination of Triamcinolone (Kenalog) 40 mg (1 cc) OR Betamethasone (Celestone) 6 mg (1 cc) and 9 cc of 0.25% Bupivacaine was prepared in a single syringe and the injection sites were sterilized with alcohol swabs.
For both sides, the greater occipital nerve was injected 3 cm caudal and 1.5 cm lateral to the inion where the main trunk of the occipital nerve penetrates the semispinalis muscle. The needle was placed perpendicular and the needle advanced 1 cm. After aspiration to ensure no obstruction or presence of blood, the area was injected with 2 cc. The needle was then repositioned at the greater occipital nerve at the level of the occipital groove. After aspiration to ensure no obstruction or presence of blood, the area was injected with 2 cc.
For both sides, the needle was repositioned at the posterior border of the sternocleidomastoid at the level of the angle of the jaw, where the lesser occipital nerve is located. After aspiration to ensure no obstruction or presence of blood, the area was injected with 1 cc.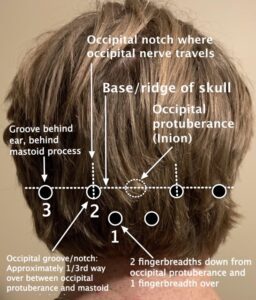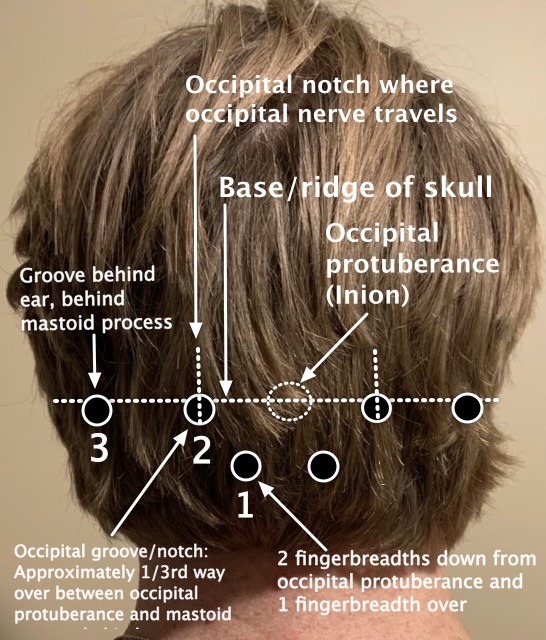 IF YOU HAVE HEADACHE, MIGRAINE, OR FACIAL PAIN AND ARE LOOKING FOR ANSWERS ON ANYTHING RELATED TO IT, A HEADACHE SPECIALIST IS HERE TO HELP, FOR FREE!
FIRST, LET'S DECIDE WHERE TO START:
IF YOU HAVE AN EXISTING HEADACHE, MIGRAINE, OR FACIAL PAIN DIAGNOSIS AND ARE LOOKING FOR THE LATEST INFORMATION, HOT TOPICS, AND TREATMENT TIPS, VISIT OUR FREE BLOG OF HOT TOPICS AND HEADACHE TIPS HERE. THIS IS WHERE I WRITE AND CONDENSE A BROAD VARIETY OF COMMON AND COMPLEX  MIGRAINE AND HEADACHE RELATED TOPICS INTO THE IMPORTANT FACTS AND HIGHLIGHTS YOU NEED TO KNOW, ALONG WITH PROVIDING FIRST HAND CLINICAL EXPERIENCE FROM THE PERSPECTIVE OF A HEADACHE SPECIALIST.
IF YOU DON'T HAVE AN EXISTING HEADACHE, MIGRAINE, OR FACIAL PAIN DIAGNOSIS AND ARE LOOKING FOR POSSIBLE TYPES OF HEADACHES OR FACIAL PAINS BASED ON YOUR SYMPTOMS, USE THE FREE HEADACHE AND FACIAL PAIN SYMPTOM CHECKER TOOL DEVELOPED BY A HEADACHE SPECIALIST NEUROLOGIST HERE!
IF YOU HAVE AN EXISTING HEADACHE, MIGRAINE, OR FACIAL PAIN DIAGNOSIS AND ARE LOOKING FOR FURTHER EDUCATION AND SELF-RESEARCH ON YOUR DIAGNOSIS, VISIT OUR FREE EDUCATION CENTER HERE.