Can headache cause neck pain? Can neck pain cause headache? Do you have neck pain with a headache? What are neck pain headache causes? What is cervicogenic headache? These are likely familiar questions if you have neck pain with headache.
Do you get neck and/or shoulder pain and tightness before a migraine begins, or along with a migraine? Well, you're not alone. 70% of patients with migraine have neck pain as an early symptom of and with a migraine attack, but it usually has nothing to do with the neck!
Or do you have daily neck pain associated with your frequent headaches? Cervicogenic headache can be a true source of headache coming from the neck.
Today, we'll cover these head and neck pain connections and how to differentiate between them.
Headache with neck pain causes
What is the connection between neck pain and migraines? I frequently see patients that end up sliding down a deep dark slippery rabbit hole of treating their migraines by targeting their neck pain with all kinds of treatments including cervical epidural or facet blocks and sometimes even major surgeries, all without benefit. Before considering these types of more aggressive neck pain treatments, it is important to understand the anatomy and how migraines can cause referred pain into the neck. The neck may be perfectly normal despite the pain felt there, and the reason is because it can be a referred pain south from the migraine happening up north in the head. This type of neck pain typically occurs primarily just with the migraine headaches and then resolves when the migraine is done. (Although some degree of neck/shoulder tightness between attacks in most patients with migraine is not uncommon).
However, neck pain from cervical structural disease (such as herniated disk or bad arthritis) can also cause headaches. These cervical structural factors can be a contributing trigger to migraines, or they can be a main cause of headaches called cervicogenic headache. In this case, the headache up north in the head can be from a referred pain down south in the neck. This scenario is more often where the neck pain is present most if not all the time, along with variable headache frequency. In other words, the neck pain doesn't just show up only with the headache, and then disappear when the headache resolves. Additional clues include prominent occipital neuralgia, cervical radicular pain (pain shooting from neck down into the hand or fingers), and headache involving one side of the head that can be triggered by head and neck movement to one side or the other.
So, the pain can be referred in both directions, from north to south (migraine), or south to north (cervicogenic headache). It is important to figure out which direction the pain referral is most likely happening in order best treat both the headache and neck pain.
With that said, many people can have a bit of referral in both directions, and some people can have both cervical spine degenerative disease as well as migraines. Occipital neuralgia is a common finding in patients that have migraine, as well as those with cervicogenic headache. However, when it is severe and there is bad neck pain all the time, these can be clues for a stronger cervicogenic factor causing headaches.
Both cervicogenic headache and occipital neuralgia may also coexist and influence additional "cervically-mediated" symptoms of dizziness, imbalance, nausea, tinnitus, hearing loss, and ear or eye pain, with a proposed mechanism and more detailed discussion here. Occipital nerve blocks often help the occipital neuralgia symptoms as well as the pain, as has occipital nerve decompression in refractory cases of occipital neuralgia.
Cervical spine referral into the face has also been suggested as a potential source for some types of facial pain.
How does migraine cause neck pain, and how does neck pain cause headache?
So, how does this bidirectional referred pain pathway happen? It's because of an area in the brainstem called the trigeminocervical nucleus, or complex. The trigeminocervical nucleus describes an area of the brainstem that allows communications between the trigeminal nerve supplying sensation to the head and face, and the upper cervical and occipital nerves supplying sensation to the back of the head and neck.
Let me explain further…
The trigeminal nucleus caudalis (TNC) is part of the nucleus, or the "brain center", of the trigeminal nerve (nerve that migraines and headaches come from). This nucleus is a long nucleus found in the brainstem, but for some people it descends to the 3rd and 4th cervical spine levels. As the TNC dips down into the upper cervical spine, it meshes with the associated gray matter of the cervical spinal cord at these levels. This area of overlap in the gray matter is termed the trigeminocervical nucleus, or complex. It represents the convergence between afferents (incoming electrical signals) from distributions of both the trigeminal nerve and upper cervical spinal nerves into the same signal relay station. So, it allows pain referral signals to go in either direction, as seen below.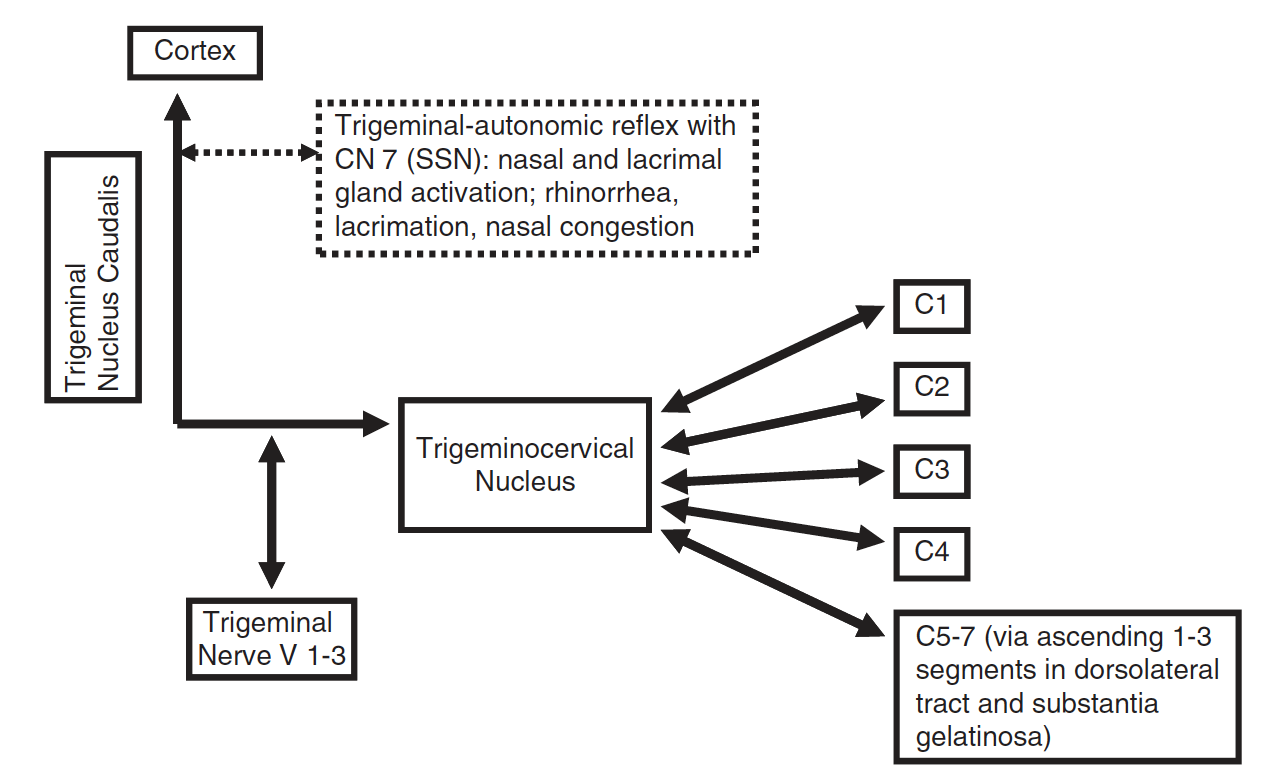 This area of convergence was first shown by researchers in 1961 when sites in the 1st and 2nd cervical spinal cord segments responded to electrical stimulation of both the trigeminal nerve and the sensory roots of the 1st and 2nd cervical spinal nerves. The convergence within the trigeminocervical nucleus allows the bidirectional exchange of sensory information between the trigeminal nerve and the upper cervical spinal nerves.
Afferent (incoming) sensory signals from the cervical spine ascend or descend up to 3 segments in the spinal cord before entering the dorsal horns of the spinal cord. This allows sensory input from potentially as low as the 6th and 7th cervical spinal levels to converge with the TNC, which itself may extend as far as the C3-4 levels. Thus, cervical spine disease down to those levels have a pathway to refer pain into the head and/or face. Conversely, migraine pain coming from the trigeminal nerve can enter this sensory relay station and cause referred pain down into the cervical spine as well as muscles of the shoulders and upper back.
What is cervicogenic headache?
Pain signal mingling in the trigeminocervical nucleus allows sensory signals from the bone, cartilage, blood vessels, and soft tissues of the neck to be referred to sensory areas of the trigeminal nerve and vice versa. These interactions provide the substrate for cervicogenic headache. For example, patients with vertebral artery dissection may complain of head pain (upper cervical nerve influence on trigeminal nerve distribution). The reciprocal symptoms of cervicogenic headache with neck, shoulder, and arm pain are well known. These connections may also allow referred pain from the trapezius and sternocleidomastoid to the head and face.
The ICHD3 defines cervicogenic headache as a headache caused by a disorder of the cervical spine and its bony, disc and/or soft tissue components, usually but not always accompanied by neck pain.
The diagnostic criteria for cervicogenic headache require clinical and/or imaging evidence of a disorder or lesion within the cervical spine or soft tissues of the neck, known to be able to cause headache. There must be evidence of causation demonstrated by at least 2 of the following:
1) Headache has developed in temporal relation to the onset of the cervical disorder or appearance of the lesion
2) Headache has significantly improved or resolved in parallel with improvement in or resolution of the cervical disorder or lesion
3) Cervical range of motion is reduced, and headache is made significantly worse by provocative maneuvers
4) Headache is abolished following diagnostic blockade of a cervical structure or its nerve supply
How do you treat neck pain associated with headaches?
The best way to treat neck pain associated with headaches depends on if the pain referral is going "north to south" (head to neck) or "south to north" (neck to head) as described above. Migraine associated neck pain would be referred pain traveling from north (head) to south (the neck). So optimal treatments revolve around treating the migraine abortively and preventively. Less migraines would equate to less neck pain if this were the main source in terms of migraine associated neck pain.
Migraine abortive treatments are used to stop individual migraine attacks at onset so the migraine does not reach full severity, ends quickly, and function is restored.  Over-the-counter pain relievers such as aspirin, acetaminophen, or ibuprofen, are sometimes helpful. Migraine-specific abortive treatments include prescription medications like triptans, DHE, gepants (Ubrelvy, Nurtec, Zavspret), ditans (Reyvow) or neuromodulatory devices.
Preventive migraine treatments are used to prevent migraines from happening so frequently, and to decrease the severity of migraines attacks. These treatments include a variety of medications such as specific antiseizure, antidepressant/anxiety, and blood pressure medications, as well as newer options such as the gepants, CGRP monoclonal antibody (mAb) treatments (Aimovig, Ajovy, Emgality, Vyepti), Botox, natural supplements, herbals and vitamins, or neuromodulatory devices.
Anti-neuritic preventive medications such as Gabapentin, Amitriptyline, Pregabalin and Duloxetine are most often the best first line medication options in my experience for occipital neuralgia and cervicogenic headache. For example, think of occipital neuralgia as "sciatica of the head". So, the strategy is to use similar medications as you would for something like sciatica pain down the leg from the lumbar spine.
If the headache is more of a cervicogenic headache, then neck physical therapy is always a great first line treatment step. Occipital neuralgia is often associated with cervicogenic headache, and neck physical therapy if often a first line treatment for this as well.
Osteopathic manipulative therapy (OMT), or osteopathic manipulative medicine (OMM), can be very effective for some patients. A specific dysfunctional level of the cervical spine is first identified (such as C5, etc.) and then a targeted adjustment at that level can be completed if it is out of alignment.
Some chiropractor (chiropractic) treatments for cervicogenic headache, neck pain, and other headaches may be helpful for some. However, I usually suggest more soft tissue based treatments rather than commonly performed aggressive "shotgun" neck cracking where the whole cervical spine is cracked throughout, rather than a specific spinal level targeted and adjusted. I've seen quite a few arterial (vertebral and carotid arteries) dissections (tearing) in the neck, some of which were associated with large strokes. So I usually advise to be cautious with these types of chiropractic treatments for headache.
Cervical facet or epidural injections can also be helpful. Surgery may be indicated in some cases, depending on the severity of disk herniation or cervical spinal canal spondylosis (narrowing). A pain management or spine specialist would be best to direct these types of treatments.
IF YOU HAVE HEADACHE, MIGRAINE, OR FACIAL PAIN AND ARE LOOKING FOR ANSWERS ON ANYTHING RELATED TO IT, A HEADACHE SPECIALIST IS HERE TO HELP, FOR FREE!
FIRST, LET'S DECIDE WHERE TO START:
IF YOU HAVE AN EXISTING HEADACHE, MIGRAINE, OR FACIAL PAIN DIAGNOSIS AND ARE LOOKING FOR THE LATEST INFORMATION, HOT TOPICS, AND TREATMENT TIPS, VISIT OUR FREE BLOG OF HOT TOPICS AND HEADACHE TIPS HERE. THIS IS WHERE I WRITE AND CONDENSE A BROAD VARIETY OF COMMON AND COMPLEX  MIGRAINE AND HEADACHE RELATED TOPICS INTO THE IMPORTANT FACTS AND HIGHLIGHTS YOU NEED TO KNOW, ALONG WITH PROVIDING FIRST HAND CLINICAL EXPERIENCE FROM THE PERSPECTIVE OF A HEADACHE SPECIALIST.
IF YOU DON'T HAVE AN EXISTING HEADACHE, MIGRAINE, OR FACIAL PAIN DIAGNOSIS AND ARE LOOKING FOR POSSIBLE TYPES OF HEADACHES OR FACIAL PAINS BASED ON YOUR SYMPTOMS, USE THE FREE HEADACHE AND FACIAL PAIN SYMPTOM CHECKER TOOL DEVELOPED BY A HEADACHE SPECIALIST NEUROLOGIST HERE!
IF YOU HAVE AN EXISTING HEADACHE, MIGRAINE, OR FACIAL PAIN DIAGNOSIS AND ARE LOOKING FOR FURTHER EDUCATION AND SELF-RESEARCH ON YOUR DIAGNOSIS, VISIT OUR FREE EDUCATION CENTER HERE.