Acupuncture is an alternative medical therapy that involves thin needles being inserted into the body. Acupressure is a therapy, often used in conjunction with acupuncture, where the practitioner applies pressure to certain points of the body. These two therapies are used for a wide variety of different therapeutic purposes, but can be specifically used to address headaches and migraines with the advice of a headache specialist.
Acupuncture for Headaches, Migraines, and Pain
Acupuncture is a technique that is derived from ancient Eastern/Chinese medicine. It consists of inserting thin solid needles into specific acupuncture points in order to maintain the flow and balance of Qi (pronounced "chee") in the body. Qi is another term for life force or life energy. Balancing Qi is felt to activate the body's natural healing abilities, and achieve homeostasis (natural state of balance in physiological and organ systems and functions). It is believed that acupuncture achieves homeostasis when Qi is able to flow smoothly and unobstructed through a system of channels called meridians. This normal flow of Qi and restoring homeostasis is felt to aid in the treatment of a variety of ailments. Acupuncture affects the limbic and para-limbic networks in the brain, stimulates the nervous system, and improves communication between nerves and influences neurotransmitter actions.
Acupuncture can be specifically beneficial for headaches, migraines, and pain. In fact, the World Health Organization has endorsed acupuncture for headaches, migraines, and pain since 1979. Some research has been done to investigate the efficacy of acupuncture for headaches and migraines, and in that research, it was found that those who participated in acupuncture for headaches and migraines reported a 50% reduction in frequency of their symptoms.
Sometimes, traditional medicine is not successful in easing headache and migraine pain in sufferers and they are eager to explore other methods of treatment, like acupuncture. This therapy was developed in ancient China. According to the practice, there are fourteen points along the body called meridians. If the energy at these points in the body is disturbed, various types of pain or illness can happen. Acupuncture works by piercing these areas of the body with a thin needle.
How Does Acupuncture Work For Headaches, Migraines, and Pain?
It is not well understood how acupuncture specifically eases headaches and migraine pain, but it is believed that the pathways of the brain that are responsible for turning pain off are activated. Generally speaking, acupuncture is very straightforward and simple. The acupuncturist will place needles at certain points in the patient's back and neck, the areas that are believed to be responsible for slowing pain transmission. Sometimes, a head massage will also be given while the needles are placed. An acupuncture session generally takes about an hour and the patient will have a weekly session over a duration of two weeks.
What Does the Medical Community Say About Acupuncture For Headaches, Migraines, and Pain?
Over the years, various medical professionals have said mixed things about acupuncture. However, a recent study by the NIH supports acupuncture as a very viable treatment for headaches, migraines, and pain. The study concludes that:
Acupuncture should be a first-line option for the treatment of headache and migraines.
It is at least as effective as preventative medications that are often prescribed for headaches and migraines.
In comparison to some of the medications that are on the market, acupuncture potentially has longer lasting effects, is safe, affordable, and can potentially reduce drug intake with side effects.
There was another publication which analyzed 15 systematic reviews of the effectiveness and safety of acupuncture in migraine treatment. This analysis concluded that acupuncture is more effective and safer than medication or sham (placebo) acupuncture in headache severity and frequency in various headache types including migraine and tension type headache.
Acupuncture can be safe and effective and you should consult with your healthcare practitioner on its employment and potential benefits. It should be considered as a complement and adjunct treatment to standard migraine treatments.
Acupressure for Headaches, Migraines, and Pain
Acupressure is very similar to acupuncture; however, acupressure does not involve needles. For some people who suffer from headaches and migraines, pressure can be applied to specific points on the body to relieve pain. An acupressure practitioner will use their fingers, palms, and elbows, as well as specialized devices to apply pressure to certain points on the body.
Acupressure may help alleviate some of the symptoms associated with migraines and headaches; however, more research is needed. A recent 2017 study by the National Institute of Health indicated that acupressure, at the very least, had the potential to reduce nausea associated with chronic migraines.
The Pressure Points For Headaches, Migraines, and Pain
Since acupressure and acupuncture are very similar and are often used in conjunction, the points where needles and pressure are applied (the meridians) are often the same. Here are some of the points along the body where the practitioner will apply the needle or pressure.
Ear Pressure Points
Ear pressure points, in addition to helping with migraine and headache pain, have the potential to help relieve chronic pain. Some of the points used along the ear include:
Ear Gate: This is the point where your ear connects with your temple.
Ear Apex: This is the very top of your ear.
Daith: The daith is near your cartilage above the opening to your ear canal.
Very little research has been done about these pressure points, but some people have reported that stimulation of the daith may lead to a reduction in headache severity and frequency. The daith piercing is done on the innermost cartilage fold near the entry of the ear canal. From a first-hand perspective, I see an extensive amount of patients in our headache center who have gotten one or two daith piercings. From my personal observations, the vast majority report no benefit at all. I have seen a few that said it did help, although they usually report this benefit wears off after a few months when I see them back in the office. I have also seen some patients whose headaches got worse and/or developed ear and nerve pain from the piercing. This certainly doesn't mean that there is no benefit to it, but it needs to be studied more objectively. It may require a precision piercing in exactly the right pressure point spot for it to help, but this is not clear. Pain patients in clinical trials have a notoriously high placebo responder rate as well. This could also be a factor of why some tend to improve briefly and then the effect wears off.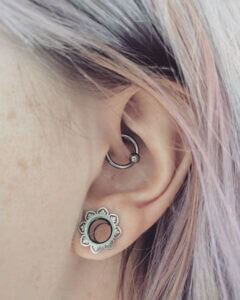 Hand and Foot Pressure Points
Various pressure points on the hands and feet can also potentially reduce headaches and migraines. There is a point between your thumb and index finger where, if pressure is applied, can potentially alleviate headache pain. On your feet, points between your first and second toe and fourth and fifth toe, if pressure is applied, can reduce anxiety, reduce migraines, and decrease pain in the jaw and face.
Upper Body Pressure Points
The upper body also has several different pressure points. For example, a point between your eyebrows can potentially reduce stress. Acupuncture and acupressure applied to the points where your nose reaches your eyebrows can reduce headache and migraine frequency. The point where your neck reaches the base of your skull has the potential to reduce migraines and fatigue. Lastly, your shoulder well has the potential to release pain, headaches, and a stiff neck.
Are Acupuncture and Acupressure Viable Treatments for Headaches, Migraines, and Pain?
The research for headaches and migraine relief is always ongoing. The World Health Organization has endorsed acupuncture since 1979 and acupressure is very closely related and used in conjunction with acupuncture. Generally speaking, acupressure and acupuncture is at least as effective as preventative medications and therapies for headaches and migraines and may potentially have longer lasting beneficial effects without the side effects of medication. As with any therapy, acupuncture and acupressure should be explored as a possible treatment after consultation with your primary care physician or headache specialist.
IF YOU HAVE HEADACHE, MIGRAINE, OR FACIAL PAIN AND ARE LOOKING FOR ANSWERS ON ANYTHING RELATED TO IT, A HEADACHE SPECIALIST IS HERE TO HELP, FOR FREE!
FIRST, LET'S DECIDE WHERE TO START:
IF YOU HAVE AN EXISTING HEADACHE, MIGRAINE, OR FACIAL PAIN DIAGNOSIS AND ARE LOOKING FOR THE LATEST INFORMATION, HOT TOPICS, AND TREATMENT TIPS, VISIT OUR FREE BLOG OF HOT TOPICS AND HEADACHE TIPS HERE. THIS IS WHERE I WRITE AND CONDENSE A BROAD VARIETY OF COMMON AND COMPLEX  MIGRAINE AND HEADACHE RELATED TOPICS INTO THE IMPORTANT FACTS AND HIGHLIGHTS YOU NEED TO KNOW, ALONG WITH PROVIDING FIRST HAND CLINICAL EXPERIENCE FROM THE PERSPECTIVE OF A HEADACHE SPECIALIST.
IF YOU DON'T HAVE AN EXISTING HEADACHE, MIGRAINE, OR FACIAL PAIN DIAGNOSIS AND ARE LOOKING FOR POSSIBLE TYPES OF HEADACHES OR FACIAL PAINS BASED ON YOUR SYMPTOMS, USE THE FREE HEADACHE AND FACIAL PAIN SYMPTOM CHECKER TOOL DEVELOPED BY A HEADACHE SPECIALIST NEUROLOGIST HERE!
IF YOU HAVE AN EXISTING HEADACHE, MIGRAINE, OR FACIAL PAIN DIAGNOSIS AND ARE LOOKING FOR FURTHER EDUCATION AND SELF-RESEARCH ON YOUR DIAGNOSIS, VISIT OUR FREE EDUCATION CENTER HERE.