What Are Tension Headaches?
Tension headaches are more accurately called tension-type headaches. They are the most common types of headaches, affecting three out of every four Americans from time to time. They are often referred to as "stress headaches" by people too, although this can be a misnomer because stress is also a very common trigger for migraine. Tension headache and migraine are often confused and mislabeled, which leads to inadequate treatment plans. So it is important to first differentiate between tension headache and migraine.
Tension Headache vs Migraine and Migraine vs Tension Headache
Tension headaches produce a dull pain on both sides of the head and on occasion may cause some additional aching sensations in the shoulders and neck. Achy, pressing, pressure, or tightness are the most common pain descriptions for tension-type headache. It is often described as if you are wearing a headband around the head. If there is ANY level (even a very subtle low level) of throbbing, pounding, or pulsating, it moves the pain out of tension type headache criteria and into migraine headache criteria. Migraine is also discussed further here and here.
Tension headaches do not come with other symptoms like migraine does, such as vomiting or nausea. Any nausea moves it out of tension type headache and into migraine criteria.
There may be some mild level of sensitivity to light (photophobia) or sound (phonophobia), but there can not be both together per ICHD3 criteria. If there are both present, it moves the headache from tension type criteria and into migraine criteria, which does require these to occur together, rather than restricted to one or the other.
Basically, tension-type headache is the opposite of all migraine diagnostic criteria:
-Migraine has a unilateral (one-sided) pain location. Tension-type headache involves both sides of the head.
-Migraine has a pulsating/throbbing/pounding pain. Tension-type headache has a non-pulsating pressing or tightening pain.
-Migraine is rated as moderate to severe pain. Tension-type headache is rated as mild or moderate, but not severe pain.
-Migraine is aggravated by routine physical activity or exercise. Tension-type headache is not aggravated by these things.
-Migraine requires nausea and/or vomiting as one of the associated features. Tension-type headache must have no nausea or vomiting.
-Migraine requires sensitivity to both light (photophobia) and sound (photophobia) together. Tension-type headache will allow for only 1 of these to be present, but not both.
Typically, people don't see their doctor for tension headaches. These types of headaches may last for a short time (30 minutes) and last for up to two hours, depending on the individual. By International Classification of Headache Disorders criteria (ICHD3), they can last from 30 minutes up to 7 days. Tension headaches are different from other types of headaches because:
The pain typically is not as severe (as with a migraine)
The headache might only happen briefly (different from a cluster headache, which comes and goes over different periods of time)
They typically are not caused by a sinus or ear issue (as with a sinus headache, which could indicate a sinus infection).
What Causes Tension Headaches?
Tension headaches are not caused by a single underlying factor. They are not hereditary. Some medical professionals believe that tension headaches are caused by tension in the neck, scalp, and shoulder muscles. There are some suspected "triggers" for tension headaches, which may include:
Staring at a television or computer screen for too long
Sitting for work with an uncomfortable posture
Jaw issues
Issues sleeping
Stress may also be a trigger for tension headaches. If you are having family issues, recently lost a job, or you are overcommitted in any aspect of your life, you may experience tension headaches from time to time.
How Do You Prevent Tension Headaches?
Some tension headaches may be prevented by good lifestyle choices. For example, if you work frequently at your computer, take breaks while working. Good posture is also going to reduce strain on your neck and shoulder muscles, helping reduce the likelihood of a tension headache.
Reducing stress is also a good way to reduce the likelihood of a tension headache. Little things, such as organizing your day, taking breaks, and reducing certain stressful obligations may help reduce the onset of tension headaches.
If these conservative treatments are not helpful, sometimes daily preventive medications are used for a few months until the headaches improve in frequency.
When Is a Tension Headache Considered Chronic?
A tension headache is considered chronic when a person suffers from the tension headache 15 or more days per month for three or more months. Chronic tension headaches may be indicative of other health issues.
What Are Some Common Treatments for Tension Headaches?
When a medical professional describes "abortive treatments" for tension headaches, they are referring to medications that you take as needed to relieve the headache. These can include Tylenol, Advil, Excedrin, and other over-the-counter medications.
Some other types of treatments include preventative measures that are employed to reduce the likelihood and intensity of a tension headache. Some types of preventative treatments that are not in the form of medication include massage, relaxation therapies, acupuncture, and other similar treatments. Lifestyle changes may also reduce the likelihood of tension headaches. Reducing caffeine consumption, good diet and nutrition, and healthy sleeping patterns will play an important role in reducing tension headaches.
If you notice the onset of a tension headache, there are some common remedies that also produce good results:
Use a cold compress and take a break in a cool, dark room
Relax and reduce stress
Eliminate the trigger that you think caused your headache (for example, use an ergonomic chair if you are working at a desk)
Consider reducing lifestyle factors that contribute to stress
Additional treatments for tension headache are discussed here.
Does Diet Play a Role in Tension Headaches?
Tension headaches can be related to diet, but not as strongly as migraine is. If you get tension headaches, you may avoid them in the future by watching consumption of the following foods and beverages:
Caffeinated beverages and diet soft drinks. Caffeine withdrawal headaches can also cause a lower level achy pressure type of headache.
Deli meat, ham, bacon, and other processed meats can contain nitrates, which may lead to tension headaches.
Avoid aged cheese to reduce the likelihood of a tension headache.
Ramen noodles, Doritos, and other similar foods use MSG, which can lead to tension headaches.
People who like soda may benefit from soft drinks that do not contain caffeine or artificial sweeteners. Sprite and other citrus soft drinks do not have artificial sweeteners and caffeine that can contribute to headaches.
Weight also is a contributor to tension headaches, as well as other types of headaches. Being overweight can cause tension headaches and people who are overweight might also experience migraines more frequently than people who have a healthy weight level. There is also a 5x increased risk of chronic migraine associated with obesity.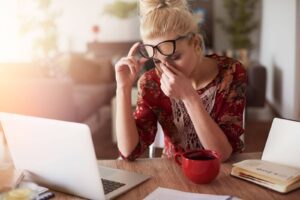 What Are Rebound Tension Headaches?
Rebound headaches happen when your headache keeps coming back when as needed pain medicine (such as over the counter pain medicines) wears off. If you regularly take medication to deal with a headache, overuse of headache medications may cause your tension headache to rebound. To reduce the likelihood of a rebound headache, try to limit your consumption of medications like ibuprofen, naproxen, and tylenol to no more than two days per week, or 10 days per month overall.
What Is the Outlook for Tension Headaches?
Fortunately, the outlook for tension headaches is very good. While most Americans will suffer a tension headache on occasion, very few people develop chronic tension headaches. Also, a tension headache will generally not last long, maybe an hour or twos. And if you deal with a tension headache right at its outset and practice good lifestyle choices, tension headaches won't be a common occurrence in your life.
Getting family members, coworkers, and friends on board will also help reduce headaches. When a person is frequently asked about their headache, they are more likely to be focused on it. Directing attention to other aspects of one's day will not make a tension headache sufferer dwell on their headache.
IF YOU HAVE HEADACHE, MIGRAINE, OR FACIAL PAIN AND ARE LOOKING FOR ANSWERS ON ANYTHING RELATED TO IT, A HEADACHE SPECIALIST IS HERE TO HELP, FOR FREE!
FIRST, LET'S DECIDE WHERE TO START:
IF YOU HAVE AN EXISTING HEADACHE, MIGRAINE, OR FACIAL PAIN DIAGNOSIS AND ARE LOOKING FOR THE LATEST INFORMATION, HOT TOPICS, AND TREATMENT TIPS, VISIT OUR FREE BLOG OF HOT TOPICS AND HEADACHE TIPS HERE. THIS IS WHERE I WRITE AND CONDENSE A BROAD VARIETY OF COMMON AND COMPLEX  MIGRAINE AND HEADACHE RELATED TOPICS INTO THE IMPORTANT FACTS AND HIGHLIGHTS YOU NEED TO KNOW, ALONG WITH PROVIDING FIRST HAND CLINICAL EXPERIENCE FROM THE PERSPECTIVE OF A HEADACHE SPECIALIST.
IF YOU DON'T HAVE AN EXISTING HEADACHE, MIGRAINE, OR FACIAL PAIN DIAGNOSIS AND ARE LOOKING FOR POSSIBLE TYPES OF HEADACHES OR FACIAL PAINS BASED ON YOUR SYMPTOMS, USE THE FREE HEADACHE AND FACIAL PAIN SYMPTOM CHECKER TOOL DEVELOPED BY A HEADACHE SPECIALIST NEUROLOGIST HERE!
IF YOU HAVE AN EXISTING HEADACHE, MIGRAINE, OR FACIAL PAIN DIAGNOSIS AND ARE LOOKING FOR FURTHER EDUCATION AND SELF-RESEARCH ON YOUR DIAGNOSIS, VISIT OUR FREE EDUCATION CENTER HERE.