If you are one of the millions who have to deal with the crippling pain and trouble that migraines cause, you may have heard rumors about this different way to get relief. This blog post examines whether an ear daith piercing helps relieve migraine headaches. Get ready to learn about the science and myth behind this interesting concept of daith piercing for migraine. With the severity of headaches and other symptoms, migraines can greatly affect a person's quality of life.
As people look for effective treatments, the idea that an ear piercing could help with headaches has become more popular. In particular, the daith piercing, which goes through the innermost cartilage fold of the ear (daith), has been considered a possible option.
Our goal is to help you understand everything there is to know about daith ear piercing for migraine headache and how it might affect headaches. By looking at the myths, the science, and the personal experiences surrounding this practice, we hope to give you the information you need to choose the best way to treat your migraine with a daith piercing.
So, come with us on this interesting trip as we find out if daith ear piercing really can help relieve headaches, and shine a light on the possibilities of this interesting alternative medicine.
However, before we do that, let's review some basics about migraine, and the nerves involved in headache and facial pain. Then we'll tie in how daith piercings are theorized to possibly help to disrupt this pain circuitry.
Migraine Affects Millions Of People
Migraine is a headache disorder that affects millions of people. It's often a throbbing or pounding pain, many times can be one sided, can be mild or severe, and associated with nausea, sensitivity to light and sound. Several factors, including stress or lack of sleep, can trigger migraine headaches.
Migraines have had a large impact on society: they're the most common cause of years lived with disability in women in their prime working years, and the 2nd leading cause of years lived with disability overall. More than 39 million Americans get migraines; about 1 in 4 people will experience them at some point during their lifetime, 20% (1 in 5) women are affected and 1 in 16 men.
If you have one, chances are good that you'll get another one soon (about 80% will). For these reasons alone, researching new treatments for this illness has been an important priority for researchers worldwide over recent years. There's also a promising new alternative treatment option from an unlikely source: daith ear piercings!
The Causes Of Migraine Are Complex
There are many components involved in the causes of migraine. It is known that migraine can be hereditary with environmental influences. Changes in brain chemistry contribute to the development of migraines, and there are also changes in blood vessels associated with a migraine attack.
The trigeminal nerve is the largest cranial nerve, and the source of all migraine, headache, and facial pain. It's responsible for sensation in your face and head, including pain and sensory perception on one side of your face (or around one eye) when you smile or frown deeply enough! It means that any problems with your trigeminal nerve could lead to issues like facial pain or numbness if they're severe enough.
This brings us back around the full circle into why a migraine daith piercing might help people who suffer from chronic headaches; because those same trigeminal nerves innervate much of the external ear and each ear canal where these daith piercings are placed too!
Migraine Development And Trigeminal Pathways
The trigeminal system is a sensory nerve responsible for pain and temperature sensation. It involves migraine headaches and TMJ (temporomandibular joint) pain, as well as dental pain and pain from the sinus cavities. The trigeminal system has three parts: the ophthalmic nerve (V1), maxillary nerve (V2) and mandibular nerve (V3).
The ophthalmic branch of this pathway travels through your forehead bone to supply your eyes with sensory information; it gives you information about light touch on your forehead or eyelids and any movement inside your eyes (like blinking). It also innervates the areas around your eyes and the frontal (forehead) sinus cavities.
The maxillary branch supplies sensations from around the outside of your nose down toward its tip. It also innervates the maxillary sinuses (below the eyes in the cheek bones), the upper jaw and teeth, and the face from the upper lips to below the eyes, into the temple areas.
The mandibular nerve supplies sensory information from the mouth and lower half of your face from the lower lip down, to the outside of the face in front of the ears, and into the temples.
It also innervates the taste buds and feeling in the tongue and mouth when something touches them (like a ripe peach on top of your tongue). So, if you have TMJ pain or migraines related to this system, it can sometimes be treated with acupuncture.
Specific to our conversation here today, the innervation of the daith ear piercing area comes from the auriculotemporal nerve. The auriculotememporal nerve in turn is a branch of the mandibular nerve. Again, the mandibular nerve is the 3rd/lower division of the trigeminal nerve as discussed above.
How Is Daith Piercing for Migraine Done?
Daith Piercing Location: Innermost Cartilage Fold
It's not a common piercing, but some people feel that it can be used to treat migraines. Daith piercings are often tried by people who do not want to take medications to treat their migraines, or those who have tried medications with little success.
It's important to know that not everyone can get this kind of piercing due to their anatomy or skin condition (for example, allergies). If you are interested in getting this type of piercing, consult with your piercer and physician before proceeding with any procedure so they can assess whether or not it's safe for you to do so without risking any complications later on down the road.
Personally, I have seen several patients that developed a chronic localized neuralgia ear pain following the daith piercing. So it is important to have it done strategically by someone who is very experienced.
Needles used for a daith ear piercing for a migraine headache are sterilized and disposable, minimizing the risk of infection from the needle itself. A hole is then made in the ear's innermost cartilage fold, called the daith.
This type of piercing should be done by an experienced professional who can ensure the proper jewelry is inserted into your ear correctly. It will take about 6-8 weeks for your new jewelry to heal completely before you can remove it and wear regular earrings again!
How Do Daith Piercings Help Migraines And TMJ Pain?
The daith piercing is a small hole in the ear's innermost cartilage. The theory behind daith piercing for migraine and TMJ pain is that it relieves a specific pressure point in the ear, believed to be associated with migraine and headache pain. This pressure point is located in the innermost cartilage fold of the ear, known as the daith.
It is theorized that stimulating the daith pressure point by piercing it can help to relieve migraine symptoms by activating the body's natural pain-relieving mechanisms, reducing inflammation, and ultimately disrupting and turning off the ongoing electrical pain circuit. However, there is currently no scientific evidence to support this theory.
What Is The Evidence For Daith Piercings To Treat Migraines And TMJ Pain?
There is limited scientific evidence to support the use of daith piercing for migraine treatment. However, some people claim that it has helped them reduce their migraine symptoms or frequency.
Anecdotally from my own clinical experience, I see a huge amount of patients in our headache center who have gotten one or two daith piercings. From my own observations, the vast majority report no benefit at all. However, I have seen some that said it did help, although they usually report this benefit wears off after a few months in subsequent office visits.
I've not seen any patient whose migraines stopped or lessened long term. I did see one patient who reported complete relief of his NDPH chronic daily headaches for a couple years, but then the headache returned. That was the longest effect I have seen though. I have also seen a few patients whose headaches got worse and/or developed ear and nerve pain from the piercing.
Out of curiousity, I ran a twitter poll to see what patients' responses were in terms of daith piercing benefit for their migraines. Out of only 21 votes, 81% reported no benefit at all, 9.5% reported migraines went away and then returned, and 9.5% reported that migraines stayed away.
This certainly doesn't all mean that there is no benefit to it, but it does need to be studied more scientifically. It may require a precision piercing in exactly the right pressure point spot for it to help, but this is not clear. Pain patients in clinical trials have a notoriously high placebo responder rate as well. This could also be a factor of why some tend to improve for a few months and then the effect wears off.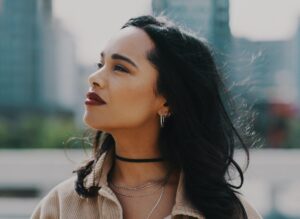 Final Thoughts on Daith Piercing for Migraine
If you're considering daith ear piercing for migraine headache, it's important to consider it part of a larger plan to deal with migraines. Talking to a health care professional can give you much helpful information and advice. They can look at your unique condition, talk to you about treatment options based on evidence, and help you make an informed choice about treating your migraine with a daith piercing.
Remember that controlling migraines requires a personalized approach that considers many things, such as changes to your lifestyle, ways to reduce stress, and the right medical treatments. Even though ear daith piercing might be interesting to try, it is important to do so as part of a larger plan led by a medical professional.
Ultimately, it is important to note that daith piercing is a form of alternative therapy and should not be used as a substitute for medical treatment for migraine. People who are considering daith piercing for migraine should speak to their healthcare provider first to discuss the potential risks and benefits.
To date, there is no solid evidence for daith piercing for migraine treatment. However, that doesn't mean there is no possibility of benefit, but studies are clearly needed to have a more definitive answer.
IF YOU HAVE HEADACHE, MIGRAINE, OR FACIAL PAIN AND ARE LOOKING FOR ANSWERS ON ANYTHING RELATED TO IT, A HEADACHE SPECIALIST IS HERE TO HELP, FOR FREE!
FIRST, LET'S DECIDE WHERE TO START:
IF YOU HAVE AN EXISTING HEADACHE, MIGRAINE, OR FACIAL PAIN DIAGNOSIS AND ARE LOOKING FOR THE LATEST INFORMATION, HOT TOPICS, AND TREATMENT TIPS, VISIT OUR FREE BLOG OF HOT TOPICS AND HEADACHE TIPS HERE. THIS IS WHERE I WRITE AND CONDENSE A BROAD VARIETY OF COMMON AND COMPLEX  MIGRAINE AND HEADACHE RELATED TOPICS INTO THE IMPORTANT FACTS AND HIGHLIGHTS YOU NEED TO KNOW, ALONG WITH PROVIDING FIRST HAND CLINICAL EXPERIENCE FROM THE PERSPECTIVE OF A HEADACHE SPECIALIST.
IF YOU DON'T HAVE AN EXISTING HEADACHE, MIGRAINE, OR FACIAL PAIN DIAGNOSIS AND ARE LOOKING FOR POSSIBLE TYPES OF HEADACHES OR FACIAL PAINS BASED ON YOUR SYMPTOMS, USE THE FREE HEADACHE AND FACIAL PAIN SYMPTOM CHECKER TOOL DEVELOPED BY A HEADACHE SPECIALIST NEUROLOGIST HERE!
IF YOU HAVE AN EXISTING HEADACHE, MIGRAINE, OR FACIAL PAIN DIAGNOSIS AND ARE LOOKING FOR FURTHER EDUCATION AND SELF-RESEARCH ON YOUR DIAGNOSIS, VISIT OUR FREE EDUCATION CENTER HERE.