"I've had this daily headache since it started on June 23rd, 2016, and it's never gone away since".
Do you have a similar story of a headache that began on a specific date, and has never stopped? If so, you could have NDPH (New Daily Persistent Headache). This is a new persistent daily headache that starts for no apparent reason and doesn't stop. NDPH is one of the most common causes of daily headaches seen in headache centers.
What is New Daily Persistent Headache (NDPH)?
NDPH is characterized by a distinct and clearly remembered onset of a continuous daily headache. The exact date that the headache started is often remembered. This is the single most useful clue in making the diagnosis. NDPH lasts for 3 or more months, often lasting for years.
What Does New Daily Persistent Headache (NDPH) Feel Like?
NDPH lacks specific characteristic features other than its abrupt onset and daily persistence. It can be described as anything. It is most often described as having overlapping chronic migraine (throbbing, nausea, sensitivity to light and sound) and/or chronic tension-type headache (achy, tightness, pressure) features.
Although NDPH can have features suggestive of chronic migraine or chronic tension type headache, these headache disorders evolve over time into daily headaches. They do not begin abruptly as a daily headache which persists indefinitely, as NDPH does. The contrast is illustrated below.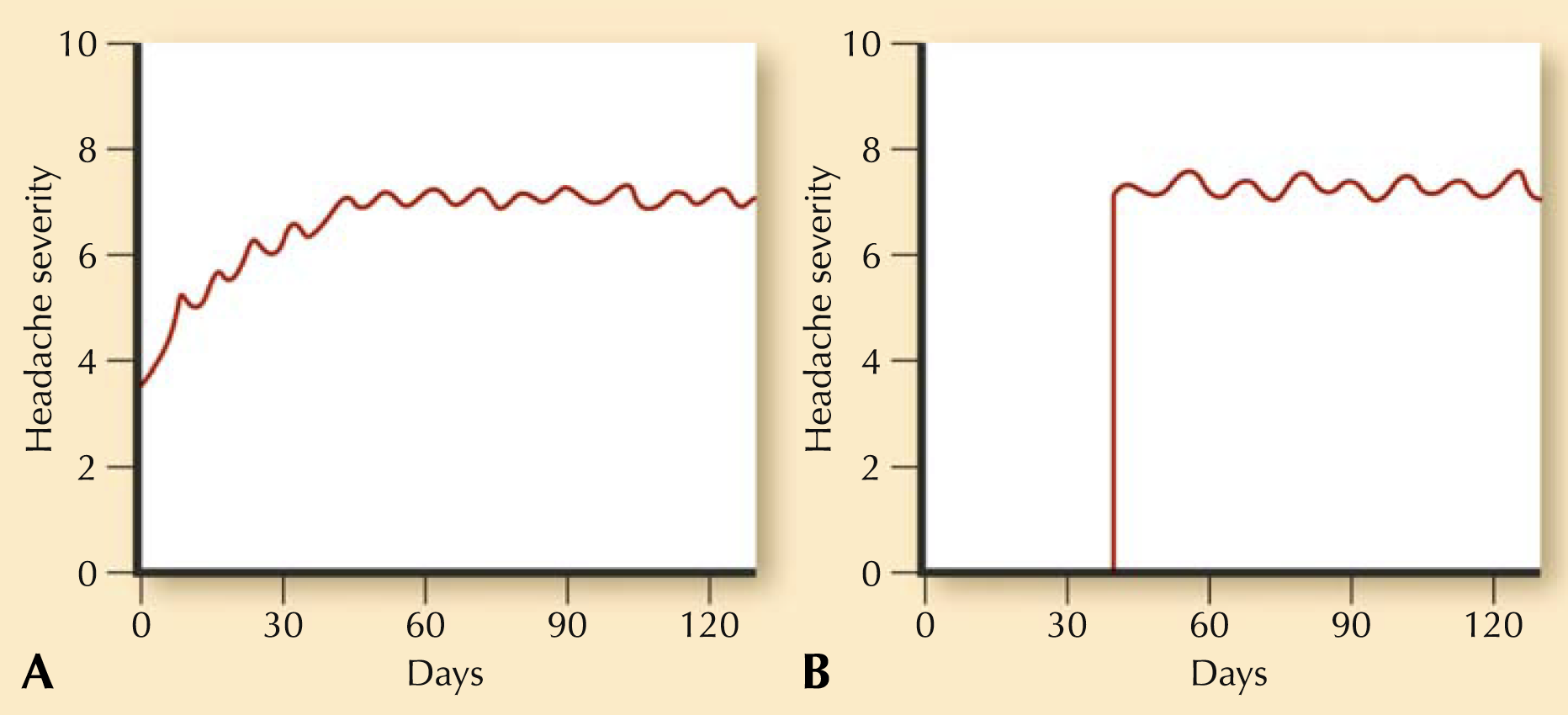 What Testing is Done for New Daily Persistent Headache (NDPH)?
A contrast brain MRI with a brain MRA and MRV should be done for all patients if possible. Alternatively, a CTA of the brain or at least a brain CT should be done. Routine labs should include CBC, CMP, ESR, CRP, TSH, and vitamin D, but may include others depending on other symptoms.
Testing should all be normal in true NDPH. The reason is because it is a problem in the neurologic electrical system. Unfortunately, problems in the wiring cannot be visualized on a test. This is understandably frustrating for the patient since all testing is typically normal (as it is in migraine and most types of headaches).
What Causes New Daily Persistent Headache (NDPH)?
There should be no causes identified per the definition of NDPH. If there is a cause identified, then the NDPH diagnosis is changed to the cause found (a secondary headache).
NDPH commonly begins in the setting of some nonspecific viral infection such as the common cold, upper respiratory infection, flu, gastroenteritis, or some other minor infection. Covid-19 headache frequently presents similar to NDPH. It also commonly occurs in the setting of a period of high emotional stress (similar to how fibromyalgia sometimes starts), or a minor medical procedure. If there is an association, these are the top 3 associations reported in studies. However, it most commonly presents without any correlating association at all.
Basically, think of NDPH like this. An electrical switch in the neurological system's pain circuitry turns on for some reason. Then it doesn't shut back off. The treatment goal is to find something to turn that electrical switch of headache back to "off mode".
How Do You Treat New Daily Persistent Headache (NDPH)?
NDPH is characteristically a very resistant headache disorder to treatments. Since this is a continuous daily headache, the goal of treatment is focused on preventive therapy. Preventive treatments are taken proactively on a scheduled basis to try to lessen the frequency and/or severity of the headaches.
Preventive medicines can take 4-6 weeks to start working and 2-3 months for full effect, assuming the correct dose of the medication is reached. Treatment approaches and options are similar to treating chronic migraine.
These are the most commonly used treatments, although this is not an all-inclusive list.
Anti-convulsant (Anti-seizure) medications:
–Gabapentin (Neurontin) (This is often a good first line based on published literature, and the eventual goal should be 600-900 mg three times daily.)
–Topiramate (Topamax)
–Zonisamide (Zonegran)
–Divalproex sodium (Depakote)
Anti-depressant/Anti-anxiety medications:
–Amitriptyline (Elavil)
–Nortriptyline (Pamelor)
–Venlafaxine XR (Effexor XR)
–Desvenlafaxine (Pristiq)
–Duloxetine (Cymbalta)
Biologics:
—Onabotulinum Toxin A (Botox)
Anti-hypertensive (blood pressure) medications:
–Propranolol (Inderal)
–Metoprolol (Toprol)
–Atenolol (Tenormin)
–Nadolol (Corgard)
–Lisinopril (Zestril)
–Candesartan (Atacand)
–Verapamil (Calan)
–Erenumab (Aimovig)
–Fremanezumab (Ajovy)
–Galcanezumab (Emgality)
–Eptinezumab (Vyepti)
Conservative and Natural Treatments:
—Herbal and natural supplements and vitamins
An interesting but unconfirmed small study reported elevated tumor necrosis factor-α (TNF-α) levels in the cerebrospinal fluid in NDPH, as well as chronic migraine.
A subsequent abstract reported that doxycycline (a TNF-α inhibitor) was given to four patients with refractory NDPH and elevated CSF TNF-α levels. These patients had failed at least five preventatives, infusion therapy, and inpatient treatments. Treatment consisted of doxycycline, 100 mg by mouth twice daily, in an open-label fashion.
All patients had a positive response to treatment: two became pain-free, one had 80% improvement, and one had a greater than 50% reduction in frequency of severe pain episodes. Onset of action was about 2 months, although one patient responded within 2 weeks. (Rozen TD. Doxycycline for treatment resistant new daily persistent headache [abstract]. Headache. 2008, 48:549). With that said, this has been attempted to be reproduced clinically by many, without success.
Some patients have periodic exacerbations on top of the daily continuous headache. These headache flares usually have migrainous characteristics. For these patients, having an abortive treatment option (taken at the onset of the exacerbation) should also be provided. Options include NSAIDs (Ibuprofen, Naproxen, Aspirin), analgesics (Acetaminophen), triptans (Imitrex, Maxalt, etc.), gepants (Ubrelvy, Nurtec, Zavspret), neuromodulatory devices, DHE, and ditans (Reyvow).
IF YOU HAVE HEADACHE, MIGRAINE, OR FACIAL PAIN AND ARE LOOKING FOR ANSWERS ON ANYTHING RELATED TO IT, A HEADACHE SPECIALIST IS HERE TO HELP, FOR FREE!
FIRST, LET'S DECIDE WHERE TO START:
IF YOU HAVE AN EXISTING HEADACHE, MIGRAINE, OR FACIAL PAIN DIAGNOSIS AND ARE LOOKING FOR THE LATEST INFORMATION, HOT TOPICS, AND TREATMENT TIPS, VISIT OUR FREE BLOG OF HOT TOPICS AND HEADACHE TIPS HERE. THIS IS WHERE I WRITE AND CONDENSE A BROAD VARIETY OF COMMON AND COMPLEX  MIGRAINE AND HEADACHE RELATED TOPICS INTO THE IMPORTANT FACTS AND HIGHLIGHTS YOU NEED TO KNOW, ALONG WITH PROVIDING FIRST HAND CLINICAL EXPERIENCE FROM THE PERSPECTIVE OF A HEADACHE SPECIALIST.
IF YOU DON'T HAVE AN EXISTING HEADACHE, MIGRAINE, OR FACIAL PAIN DIAGNOSIS AND ARE LOOKING FOR POSSIBLE TYPES OF HEADACHES OR FACIAL PAINS BASED ON YOUR SYMPTOMS, USE THE FREE HEADACHE AND FACIAL PAIN SYMPTOM CHECKER TOOL DEVELOPED BY A HEADACHE SPECIALIST NEUROLOGIST HERE!
IF YOU HAVE AN EXISTING HEADACHE, MIGRAINE, OR FACIAL PAIN DIAGNOSIS AND ARE LOOKING FOR FURTHER EDUCATION AND SELF-RESEARCH ON YOUR DIAGNOSIS, VISIT OUR FREE EDUCATION CENTER HERE.