Migraines are a severe form of headache that can leave sufferers debilitated and feeling helpless. Despite no known cure, there is hope on the horizon as some pioneering research has uncovered a possible genetic connection between migraine headaches – suggesting new treatments may be within our reach! In this article, we take an in-depth look at whether migraines are hereditary and if understanding this connection could help develop better options for those who suffer from it. So, are migraines hereditary?
The Role of Genetics in the Development of Migraines
Migraine headaches are a common medical complaint, and recent studies have uncovered intriguing evidence that there may be a hereditary component to their occurrence. An increased prevalence of migraines has been observed among people whose relatives also experience them; additionally, genetic mutations and polymorphisms exclusive to those with migraine histories suggest possible underlying genetic causes. These findings suggest that specific genes could be responsible for increasing the likelihood of developing a migraine headache.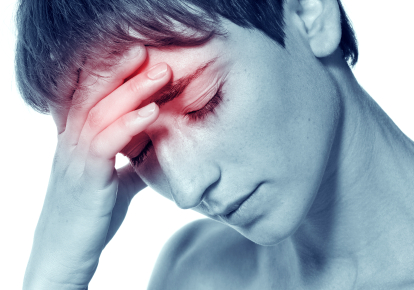 Types of Genetic Factors:
Two potential types of genetic factors can be linked to migraines:
Mutations in genes related to glutamate signaling pathways could cause abnormal neuron firing and lead to migraine-like symptoms.
Polymorphisms which increase the risk of developing a migraine headache by changing the way specific proteins or enzymes interact with one another.
The Relationship Between Genetics and Migraines
Now, let's dive deeper and see the relationship that genetics has with the development of migraines.
Evidence for a Genetic Component to Migraines
Studies have found that migraine headaches tend to run in families. This suggests that genetics may play a role, as people with a family history of migraines are more likely to experience them themselves.
In general, if one parent has migraine, there is a 40% chance that a child will have migraine. If both parents have migraine, there is a 90% chance that a child will have migraine.
Additionally, research has found evidence for mutations in genes related to glutamate signaling pathways, which could lead to abnormal neuron firing and contribute to the development of migraine-like symptoms. Furthermore, polymorphisms have been linked with an increased risk of developing a migraine headache by affecting how specific proteins or enzymes interact with each other.
Identified Genes Associated with an Increased Risk of Migraines
Although much more research is needed to fully understand genetics' role in migraine headaches, some genes have been identified as associated with an increased risk of developing migraines.
These include (although there are others as well):
CACNA1A – mutation in this gene can lead to abnormal neuron firing and has been linked to a higher risk of migraine headaches.
ATP1A2 – this gene affects the functioning of calcium channels, and mutations can lead to abnormal brain activity.
SCN1A – mutations in this gene have been linked to a higher risk of headaches, including migraines.
The Interplay Between Genetic and Non-Genetic Factors in The Development of Migraines
The relationship between genetic and non-genetic factors of migraines is complex and still being studied. While genetics may play a significant role in the development of migraines, other environmental and lifestyle influences may also be to blame. It is important to note that genetics is only one factor at play when it comes to migraines.
Other things like hormones, stress levels, physical activity levels, diet, and medication use can all contribute to their onset and severity. Hormonal changes can lead to increased migraines for men and women during puberty or when taking contraceptives. Stressful situations can act as triggers for some individuals who suffer from migraines, and certain foods are known to worsen their symptoms.
Physical activity levels can also make a difference – frequently exercising has been found to help reduce the frequency of migraines, while lack of exercise can cause or make them worse. Finally, medications like antibiotics, antidepressants, or blood pressure drugs may cause side effects such as headaches, which could be mistaken for migraines if not correctly diagnosed by a medical professional.
To better treat those affected by migraines and determine the best course of action for managing their pain, we must understand the genetic and non-genetic factors involved in its development. With further research into both fronts, we may discover new treatments that target these areas more precisely and provide relief for those who suffer from this debilitating condition.
Implications of Treatment and Management of Migraines
The research on the genetics of migraines can help inform and improve treatment options. For example, suppose a mutation in a gene contributing to migraine headaches is identified. In that case, targeting that gene with more specific treatments, such as medications or lifestyle changes, may be possible. Additionally, understanding the environmental and lifestyle factors contributing to its onset can help tailor management strategies for those suffering. Knowing what triggers their migraines can allow individuals to try and avoid certain situations or activities which can make them worse.
Identifying and Avoiding Triggers
For some individuals, understanding and avoiding their migraine triggers can be the difference between frequent attacks or none at all. Common triggers include:
Stress
Lack of sleep
Hormonal changes
Bright lights or loud noises
By recognizing these potential triggers and taking steps to avoid them, individuals may find they have far fewer migraine days. Additionally, keeping a symptom diary can help identify patterns in their migraines which can help inform treatment plans.
Managing Stress
Stress can be a significant migraine trigger for many individuals, and learning how to manage stress in healthy ways is an integral part of avoiding frequent migraines. Techniques such as deep breathing, yoga, or meditation can help reduce stress levels. Additionally, talking to a therapist may help uncover the underlying causes of stress and allow you to better understand and manage it.
Seeking Medical Treatment
Finally, if lifestyle changes alone are not enough to reduce the frequency or severity of migraines, it is crucial to seek medical help. A doctor can help identify potential triggers and discuss possible medical treatments such as medications or other therapies which may help reduce their symptoms.
The Role of Lifestyle Changes in Preventing or Managing Migraines
Eating well, exercising often, and getting adequate rest are all essential components of maintaining a healthy lifestyle that can help reduce the risk of migraines. Additionally, identifying triggers such as stress or specific foods should be avoided to prevent migraine headaches from occurring in the first place. Furthermore, current research into genetic elements associated with migraines is paving the way for potential treatments explicitly tailored to those experiencing this painful condition regularly. Taking advantage of these options could offer life-changing relief for individuals struggling with chronic migraine pain.
Final Words
Overall, understanding the genetic and non-genetic factors contributing to migraines is essential for managing and preventing them. By making lifestyle changes, avoiding triggers, and seeking medical help, many individuals can find relief from their symptoms and lead a healthy life despite migraines.
IF YOU HAVE HEADACHE, MIGRAINE, OR FACIAL PAIN AND ARE LOOKING FOR ANSWERS ON ANYTHING RELATED TO IT, A HEADACHE SPECIALIST IS HERE TO HELP, FOR FREE!
FIRST, LET'S DECIDE WHERE TO START:
IF YOU HAVE AN EXISTING HEADACHE, MIGRAINE, OR FACIAL PAIN DIAGNOSIS AND ARE LOOKING FOR THE LATEST INFORMATION, HOT TOPICS, AND TREATMENT TIPS, VISIT OUR FREE BLOG OF HOT TOPICS AND HEADACHE TIPS HERE. THIS IS WHERE I WRITE AND CONDENSE A BROAD VARIETY OF COMMON AND COMPLEX  MIGRAINE AND HEADACHE RELATED TOPICS INTO THE IMPORTANT FACTS AND HIGHLIGHTS YOU NEED TO KNOW, ALONG WITH PROVIDING FIRST HAND CLINICAL EXPERIENCE FROM THE PERSPECTIVE OF A HEADACHE SPECIALIST.
IF YOU DON'T HAVE AN EXISTING HEADACHE, MIGRAINE, OR FACIAL PAIN DIAGNOSIS AND ARE LOOKING FOR POSSIBLE TYPES OF HEADACHES OR FACIAL PAINS BASED ON YOUR SYMPTOMS, USE THE FREE HEADACHE AND FACIAL PAIN SYMPTOM CHECKER TOOL DEVELOPED BY A HEADACHE SPECIALIST NEUROLOGIST HERE!
IF YOU HAVE AN EXISTING HEADACHE, MIGRAINE, OR FACIAL PAIN DIAGNOSIS AND ARE LOOKING FOR FURTHER EDUCATION AND SELF-RESEARCH ON YOUR DIAGNOSIS, VISIT OUR FREE EDUCATION CENTER HERE.