What Is Idiopathic Intracranial Hypertension (IIH) (Pseudotumor Cerebri) And What Causes It?
Idiopathic intracranial hypertension (IIH) was previously called pseudotumor cerebri. Pseudotumor cerebri was an old term which was often confusing to patients because this disorder is not because of a brain tumor. Brain tumors in strategic areas of the brain can block the flow of cerebrospinal fluid (CSF), which can cause back up and elevation of CSF pressure, called hydrocephalus. This is where the older term of pseudotumor cerebri was derived from. Benign intracranial hypertension was another previously used term which was changed because the disease can certainly be not so benign.
IIH is a completely different problem than the elevated CSF pressure from a brain tumor though, and treated much differently. The problem of IIH involves an elevation of CSF around the brain and spinal cord, without a clear reason.
CSF is continuously produced (by something called the choroid plexus inside the ventricles of the brain), absorbed, and transported out of the nervous system (by something called arachnoid villi) and into large draining veins surrounding the brain called the cerebral venous sinuses, and then into the jugular veins and blood where it is broken down.
There have been a number of theories and findings as to the causes of IIH. These include:
Overproduction of the CSF
Blockage of CSF absorption into the cerebral venous sinuses due to a faulty transport mechanism
Stenosis (narrowing) of the venous sinuses
Blot clot (thrombus) blocking the inside of venous sinuses preventing the outflow of CSF and pressure build up
Compression of the venous sinus from the outside (such as brain tumor, meningioma, etc.), causing narrowing on the inside
Sex hormones such as androgens and adipose tissue may play a potential role
Some medications have been associated with IIH including lithium, retinoids (such as excess vitamin A derivatives), oral contraceptives, and tetracycline antibiotics such as doxycycline and minocycline. Rebound IIH has also been reported from corticosteroid withdrawal.
Dural arteriovenous (AV) fistula (an artery connects to the venous sinus, allowing arterial blood flow into the venous sinus and causes much higher pressure)
Think of it like this…
Imagine the brain and spinal cord surrounded and suspended in fluid called the CSF (which cushions and keeps the brain and spinal cord afloat). To keep this fluid in place, it is surrounded by a thick lining called the dura mater. Basically, think of this arrangement like a water balloon. Now, imagine that you keep filling the water balloon with water until the pressure inside gets higher and higher. Eventually, the balloon pops. The same problem occurs in IIH. The pressure of the CSF gets higher and higher. As the pressure rises, it puts pressure on various areas of the brain and cranial nerves resulting in a variety of neurological and other symptoms. This is the basis of IIH.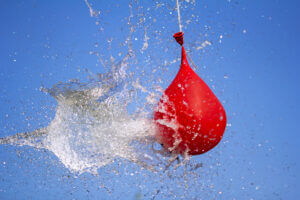 Sometimes, the pressure can become high enough and you can get a CSF leak out of the surrounding membrane, similar to the balloon popping. This situation can sometimes lead to a low CSF pressure (intracranial hypotension, or CSF leak), which can cause a different type of positional headache and a different set of symptoms. I discuss the problem of CSF leaks in a separate blog article and will focus here on the problem of high CSF pressure.
What Are IIH (Pseudotumor Cerebri) Symptoms?
Headache is the most common symptom of IIH. It typically involves the whole head, and is often worse in the morning (after lying down all night and pressure tends to build). It can commonly flare up by certain activities such as coughing, sneezing, straining, bending forward, and laughing.
Normal CSF pressure in adults is generally considered to be 100-200 mm CSF (10-20 cm CSF). According to criteria, IIH consists of a headache associated with CSF pressure greater than 250 mm CSF (25 cm CSF) in adults, and greater than 280 mm CSF (28 cm CSF) in children, checked by lumbar puncture (LP). The CSF pressure should be measured in the absence of treatment to lower intracranial pressure, and without sedative medications. The optimal position to check CSF pressure is lying on the left side (left lateral decubitus position) with legs extended (initially the legs/hips are flexed up towards the stomach for insertion of the LP needle to open up the spaces between the vertebrae, and then can be carefully extended out with assistance once the LP needle is in place), head in neutral position (not flexed far forwards), and the patient is breathing calmly and normally.
CSF pressure often varies through the day, so a single measurement may not be indicative of the average CSF pressure over 24 hours. In adults, if the pressure is 200-250 mm CSF (20-25 cm CSF), this can still be considered abnormal if they also have the associated signs, symptoms, and imaging findings consistent with a diagnosis of IIH. If there is uncertainty, prolonged lumbar or intraventricular pressure monitoring is occasionally considered. Temporary relief of the headache following lumbar puncture is often seen and can be supportive of the diagnosis, although it doesn't confirm or exclude the diagnosis whether it happens or not.
IIH criteria also must have at least one of either pulsatile tinnitus (typically described as a whooshing in the ear) and/or papilledema (swelling of the optic nerve (transmits vision to the brain) in the back of the eye, seen during an eye exam).
Some patients report transient obscurations of vision (TVOs), which are brief (usually seconds) partial or complete loss of vision which rapidly returns to normal. This is suspected to be due to brief lack of blood flow (ischemia) in the swollen area of the optic nerve (from papilledema). Double vision is occasionally reported. It is usually from abducens nerve (cranial nerve 6) palsy (weakness) and can be 1 or both sides, but other reported nerve palsies can include cranial nerve 3, 4, and 7. Additional symptoms can include neck pain, pain radiating from the neck down the arm (cervical radiculopathy), back pain, ear fullness (such as high altitude), dizziness and unsteadiness.
What Tests Are Done To Diagnose IIH (Pseudotumor Cerebri)?
Dilated Eye Exam (Fundoscopy)
Irreversible progressive vision loss is the main concern with IIH if it continues untreated. The enlarged physiologic blind spot develops first followed by inferonasal visual defects, followed by progressive constriction of visual fields, and central vision is the last to be affected.
Sometimes a subtle clue of elevated CSF pressure can be picked up by observing the venous pulsations in the back of the eye on exam. If they are present, CSF pressure is likely relatively normal. If the venous pulsations are absent, this can suggest elevated CSF pressure. However, occasionally some patients can have a lack of venous pulsations normally. Another normal variant that can appear abnormal is pseudopapilledema. This looks like papilledema, but can also be normal anatomy or from causes such as optic disk drusen. With pseudopapilledema, venous pulsations are usually present, whereas in true papilledema they are absent. Additional tests to evaluate for pseudopapilledema include ultrasound and fundus autofluorescence, done with an ophthalmologist.
Every patient with suspected IIH should be referred (preferably) to neuro-ophthalmology to evaluate and monitor for evidence of elevated CSF pressure on a dilated eye exam and full visual field testing. They often do a test called optical coherence tomography (OCT) which is checked periodically to monitor for thinning (atrophy) of the optic nerve, and other structural damage from excess CSF pressure on the nerve. If a neuro-ophthalmologist is not available, than an ophthalmologist (not an optometrist) should be seen. The vision loss from IIH is usually a slow process that may or may not be noticed by the patient, and it is irreversible. Therefore, all IIH patients should have early detailed dilated eye exams and should be followed serially by a neuro-ophthalmologist or ophthalmologist.
There are a much less common (and somewhat controversial) group of patients that may have IIH without papilledema. This has been suggested to be possibly related to anatomic variations in the subarachnoid space (where CSF collects around the optic nerve) not reaching far enough to the back of the eyeball. So the part of the optic nerve that may be swollen may be further back behind the eyeball, and can't be visualized. Another theory of this group of patients includes the episodic presence of a CSF leak, so pressure isn't sustained long enough to cause papilledema. So, when CSF pressure reaches a certain level, the CSF leaks from a weakened area in the meninges (these keep the CSF in place around the brain and spinal cord) either in the nose (CSF rhinorrhea), the ear (CSF otorrhea), or in the spine. Rarely, some patients are felt to have alternating cycles of high pressure (IIH symptoms) and when the CSF leak reforms, cycles of low pressure (intracranial hypotension, CSF leak headache), so their complaints can vary widely between these 2 extremes of high pressure or low pressure.
Lumbar Puncture (LP)
This is really the most central piece of the IIH diagnosis as detailed above. If CSF pressure is high and the patient has signs, symptoms, and/or findings on MRI, then the diagnosis is confirmed. When the LP is done to check pressure, it is worthwhile to also send some CSF to the lab to analyze for signs of inflammation, infection, or cancerous (such as metastatic leptomeningeal disease) factors. Temporary relief of the headache following lumbar puncture is often seen and can be supportive of the diagnosis, although it doesn't confirm or exclude the diagnosis whether it happens or not.
Brain MRI and Brain MRV
A brain MRI with contrast should be a first line test, which helps to exclude other obvious causes of papilledema and elevated CSF pressure (such as brain tumor), and results can support a diagnosis of IIH. However, a diagnosis should never be made based on MRI alone, but on the MRI in combination with a good history and clinical symptoms. Some of the supportive MRI findings include empty sella turcica, or "empty sella syndrome". However, this is does not definitively confirm the diagnosis, and it is not uncommon to see this appearance in normal patients. Again, putting together MRI findings with the right clinical story is key. Other MRI findings that may or may not be visible include dilation/distention (due to increased CSF surrounding the optic nerves) and tortuosity of the optic nerve sheaths (more curvy and twisted appearance), flattening of the posterior sclerae (flattening of the back of the eyeball), enhancing protrusion of the swollen optic disks, pseudo-Chiari (not a true Chiari, but some cerebellar decent due to high CSF pressure pushing it down), and transverse cerebral venous sinus stenosis (narrowing).
Brain MRV should always be done with the MRI to ensure there is no blood clot (cerebral venous thrombosis) in the venous drainage pathways, or significant narrowing (stenosis) of the venous sinuses. It is preferably done with contrast for optimal imaging clarity, although contrast is not absolutely necessary. In most patients, if there is a significant finding, you'll usually see it on noncontrast MRV. The contrast can add further definition of an area in question if there is uncertainty.
How Is IIH Treated?
Weight Loss for IIH (Pseudotumor Cerebri)
Weight loss is an absolute must for IIH if the patient is overweight. Research has suggested that losing 6-10% of initial body weight can cause IIH remission in many patients. Bariatric surgery is sometimes considered for morbidly obese patients who are unsuccessful in losing weight by more conservative ways.
What is the best IIH (Pseudotumor Cerebri) Diet?
A low-calorie, low-salt diet with mild fluid restriction generally seems to be the most helpful diet for IIH.
What Medications Are Used To Treat IIH (Pseudotumor Cerebri)?
The carbonic anhydrase inhibitors are the first line treatment for IIH. These medicines work for IIH because they decrease the production of CSF (and thus CSF pressure is lower because production has slowed). They also have a mild diuretic effect. The most common medications used for IIH are Acetazolamide (Diamox), Topiramate (Topamax), and Methazolamide.
Typical doses for Diamox start at 500 mg twice daily and can be increased to 2000 mg twice daily, although lower doses are often effective. Side effects can include tingling/numbness (paresthesias), changes in taste, and gastrointestinal symptoms such as nausea, vomiting, or diarrhea.
If there is any question of migraine mixed in with IIH, then Topiramate is my first choice because it is also FDA approved for migraine prevention, in addition to decreasing CSF production. I usually start Topamax with 25 mg at bed and is increase by 25 mg at bed each week until 100 mg at bedtime. If not improving by 4 weeks at the 100 mg dose, morning dosing is then added with 50 mg for 1 week and then 100 mg twice daily. Side effects often include weight loss, which would certainly be a desired side effect in obese patients with IIH. Other side effects can include mood changes, tinging/numbness, and cognitive complaints such as memory, word finding, and concentration.
Methazolamide is started at 25 mg twice daily and can be increased to 200 mg twice daily.
Other medicines sometimes used if the above options are not tolerated or working include furosemide and bumetanide. For sulfa allergic patients, spironolactone, triamterene, and ethacrynic acid are occasionally used.
Treating Other Headache Disorders That Occur With IIH (Pseudotumor Cerebri)
It is also very important to also treat other headache disorders that may be mixed in with the IIH headaches. For example, many patients with IIH also have headache flares that easily fit criteria for migraine headaches. They typically have chronic daily headache which looks like a mix of chronic migraine and chronic tension type headache. So, when there is IIH mixed in with these headache disorders, it sometimes becomes cloudy on which headache disorders are contributing to which symptoms as well as the overall chronic daily headache. Many times these patients are in rebound headache (medication overuse headache), and that issue must be treated and resolved before the headaches are able to improve. I typically treat these patients targeting both chronic migraine and IIH (if IIH has been confirmed as well) since they are most often intermingled.
If there are any associated headache symptoms of throbbing, pulsating, pounding (even if a low level), nausea, sensitivity to both light and sound with headache flares, then migraine should also be targeted with both an abortive and preventive treatment option. Abortive options include NSAIDs, ergots, triptans, neuromodulatory devices, the ditans (Reyvow (Lasmiditan)) and the gepants (Ubrelvy (Ubrogepant) and Nurtec ODT (orally dissolvable tablet) (Rimegepant)).
If the migraines are happening frequently enough, then a migraine preventive treatment should be considered. Preventive migraine treatments are used to lessen the frequency and/or severity of migraine attacks. Preventive treatments include a variety of daily pill medications, CGRP monoclonal antibodies (mAbs) (Aimovig (Erenumab), Emgality (Galcanezumab), Ajovy (Fremenazumab), Vyepti (Eptinezumab)), neuromodulation devices, Botox, Nurtec ODT every other day (1st and only dually approved migraine abortive and preventive), herbal and natural supplements and vitamins, yoga and meditation, and acupuncture and acupressure.
What Are Surgical Treatments for IIH (Pseudotumor Cerebri) When Other Treatments Fail?
Optic Nerve Fenestration For IIH
Optic nerve fenestration is sometimes done for papilledema that is not improving with standard medical treatments and vision continues to worsen. This is basically a procedure which makes small slits in the optic nerve sheath, which encloses the optic nerves and keeps the CSF in place around them. By doing this, it can release the CSF pressure on the nerves (imagine it as cutting a slit in a garden hose). This procedure is only done to prevent further vision loss which isn't responding to conservative treatment, but does not typically help the headache.
Venous Sinus Stenting For IIH
Stenoses of the transverse venous sinuses can sometimes be seen on MRV. This leads to increased venous pressures in these channels, as well as the superior sagittal sinus. Increased venous sinus pressures can be confirmed with catheter venography with manometry. Transverse venous sinus stenting is occasionally considered as a surgical treatment option for IIH in patients with pressure gradients of more than 8 mm Hg and refractory symptoms. One study found that a pressure gradient of 21 mm Hg or higher had the best outcomes.
Shunts for IIH
Ventriculoperitoneal (VP) shunts and lumboperitoneal (LP) shunts are occasionally done with a goal of surgically placing a valve and tubing device to maintain a normal pressure in the spinal fluid. VP shunting is preferred over LP shunting due to lower rates of complications. If the pressure reaches above a specific pressure setting of the valve, then CSF will drain through the tubing and into the peritoneal cavity of the body where it is then absorbed and eliminated. Shunting should always be a last resort option (outside of severe emergent cases which need rapid pressure relief) after every possible medical management option has failed. Shunts don't tend to provide long term effectiveness for headache management and frequently require revisions. It is not uncommon for the hardware to become infected or blocked and then have to be removed. One large study found that initial improvement in headaches following shunting returned to recurrent headaches at 36 months in almost half of all patients.
How Do You Treat IIH (Pseudotumor Cerebri) In Pregnancy?
Acetazolamide can be used after the 1st trimester. Repeated LPs to drain some of the CSF pressure can be done if necessary. For women who have progressive papilledema and worsening vision, optic nerve fenestration may be necessary to preserve vision, although it will not typically help the headache.
IF YOU HAVE HEADACHE, MIGRAINE, OR FACIAL PAIN AND ARE LOOKING FOR ANSWERS ON ANYTHING RELATED TO IT, A HEADACHE SPECIALIST IS HERE TO HELP, FOR FREE!
FIRST, LET'S DECIDE WHERE TO START:
IF YOU HAVE AN EXISTING HEADACHE, MIGRAINE, OR FACIAL PAIN DIAGNOSIS AND ARE LOOKING FOR THE LATEST INFORMATION, HOT TOPICS, AND TREATMENT TIPS, VISIT OUR FREE BLOG OF HOT TOPICS AND HEADACHE TIPS HERE. THIS IS WHERE I WRITE AND CONDENSE A BROAD VARIETY OF COMMON AND COMPLEX  MIGRAINE AND HEADACHE RELATED TOPICS INTO THE IMPORTANT FACTS AND HIGHLIGHTS YOU NEED TO KNOW, ALONG WITH PROVIDING FIRST HAND CLINICAL EXPERIENCE FROM THE PERSPECTIVE OF A HEADACHE SPECIALIST.
IF YOU DON'T HAVE AN EXISTING HEADACHE, MIGRAINE, OR FACIAL PAIN DIAGNOSIS AND ARE LOOKING FOR POSSIBLE TYPES OF HEADACHES OR FACIAL PAINS BASED ON YOUR SYMPTOMS, USE THE FREE HEADACHE AND FACIAL PAIN SYMPTOM CHECKER TOOL DEVELOPED BY A HEADACHE SPECIALIST NEUROLOGIST HERE!
IF YOU HAVE AN EXISTING HEADACHE, MIGRAINE, OR FACIAL PAIN DIAGNOSIS AND ARE LOOKING FOR FURTHER EDUCATION AND SELF-RESEARCH ON YOUR DIAGNOSIS, VISIT OUR FREE EDUCATION CENTER HERE.