Staying Hydrated and Eating Healthy
Not drinking enough water (dehydration) is a common cause of dehydration headaches, but this is also a very common migraine trigger. Some studies indicate that there is a strong correlation between poor hydration and headaches. According to Science Direct, there are several different causes of headaches that are linked to lack of hydration and food or food additives. These include:
Skipping meals
Alcohol intake
Caffeine withdrawal
Excess salt (sodium) intake
According to the NIH, immediately hydrating can potentially eliminate your headache in as early as 30 minutes, if the cause is dehydration. Avoiding alcohol, eating right, and drinking plenty of water throughout the day is a great way to keep headaches from happening.
Certain types of foods can be headache triggers and avoiding these foods can help prevent headaches. Migraine is particularly susceptible to various food and food additive headache triggers. For example, aged cheese can be a headache trigger. Pickled food products, prepared food (like potato chips), canned soups, and others are also possible headache triggers. Other foods that cause headaches can be found in this article.
Sleep is another way to alleviate headaches. For people who get less than six hours of sleep, they are more likely to have a headache. In a recent study, 85% of migraine sufferers chose sleep to relieve their headache while 75% reported that their headache forced them to get rest because of their headache.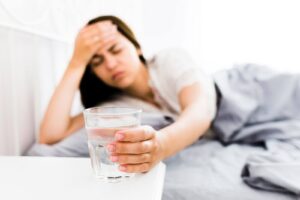 Hot and Cold Compresses
For any type of headache that has radiating pain, you can place a cold compress on the area where the pain started. The cold temperature will help numb the pain, and this tends to be especially helpful for migraine. For tension headaches, studies have shown that a hot compress can work fairly well. If you have a tension headache, the hot compress can be placed on the neck or shoulders to release tension in your muscles. There are other conservative treatments on how to treat headaches without medication discussed here.
Essential Oils For Headaches and Migraines
Essential oils are another type of remedy for headaches. These essential oils are made from the bark, flowers, leaves, stems, and roots of plants. Some of the more popular types of essential oils for alleviating headaches include peppermint essential oil, rosemary essential oil, chamomile essential oil, eucalyptus essential oil, and lavender essential oil. Some of these oils can be used in an aromatherapy format and others can be applied topically. Here are some of the benefits of these essential oils for headaches:
Peppermint essential oil: Peppermint essential oil can relax muscles, ease pain, and alleviate tension and migraine headaches. This essential oil is typically applied topically.
Rosemary essential oil: Rosemary essential oil can reduce insomnia and relax muscles, as well as help with headaches. This essential oil can be applied topically or used via a diffuser.
Chamomile essential oil: Chamomile essential oil is commonly used for reducing stress and tension. It is a great aid for reducing tension headaches.
Eucalyptus essential oil: Eucalyptus essential oil is great for clearing sinus headaches and can be highly effective when used with other essential oils, like peppermint.
Lavender essential oil: Lavender essential oils are great for reducing stress and helping with overall relaxation. Commonly used via aromatherapy, lavender essential oil is great for reducing migraine severity.
Teas Can Help Alleviate Headaches, Migraines, and Pain
Herbal teas, without caffeine, can help alleviate the severity of headaches, migraines, and pain. These teas can help add water to the diet. Ginger, for example, is an herb for tea that works particularly well with alleviating migraines, and especially the nausea associated with migraines. Some studies indicate that ginger can alleviate headaches and migraines particularly quickly. Ginger can potentially help alleviate symptoms as soon as two hours after use. Other types of herbal teas include peppermint, chamomile, and lavender.
Vitamins and Minerals That Can Help With Headaches, Migraines, and Pain
Vitamins and minerals, like Vitamins B, E, and magnesium can help with headaches. Natural migraine preventive supplements including vitamins, minerals, and herbal supplements are detailed further here. By adding these vitamins and minerals to your diet, you can help relieve headaches over time.
Vitamin B: Vitamins B6 and B12 are available as supplements and can play a role in general nerve and neurological health, although excess B6 can also cause neuropathy, so should not be used in excess. Vitamin B2 is the B vitamin which has good evidence for preventing migraine headaches.
Vitamin E: This vitamin may play a role in relieving headaches and migraines associated with the menstrual cycle.
Magnesium: Increasing the amount of magnesium in your diet can work particularly well if you experience migraine headaches, and has shown benefit in some patients with cluster headache and tension type headache.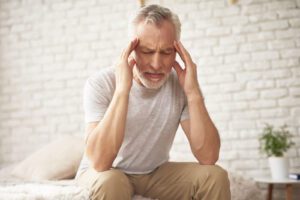 Relaxation Techniques That Can Help Reduce the Severity of Headaches, Migraines, and Pain
Different types of relaxation techniques, such as breathing can help alleviate headaches. These relaxation techniques work best when you are alone.
Breathing Techniques: Deep breathing, visualized breathing, and rhythmic breathing are all activities that one can do to reduce stress and cope with migraines or headaches.
Visualized Breathing: Visualized breathing involves imagining the air moving in and out of you and each breath gets rid of a little bit more tension.
Progressive Muscle Relaxation: This involves taking note of the different areas of your body that hurt and relaxing them gradually. Rotating your head slowly and removing tension from your neck and shoulder muscles can help alleviate any headache or migraine symptoms.
Meditation, Yoga, and Mental Imagery Relaxation: These are different techniques, but they all have one thing in common. They make you pause any activity that is causing you stress and focus on yourself. Mental imagery relaxation involves focusing on peaceful images in your mind. Yoga helps calm the mind but also strengthens some of the muscles and tendons that can contribute to stress.
Acupressure and Acupuncture For Headaches, Migraines, and Pain
Acupressure is a technique that involves applying pressure to certain parts of the body. Acupressure works particularly well for headaches if you apply pressure at the base of your skull/back of the neck area. Using your knuckle or fingertip, simply apply pressure gently for 15 to 30 seconds. This should provide some moderate relief for a headache. Acupuncture has also shown some benefit in headache disorders such as migraine and tension type headache.
IF YOU HAVE HEADACHE, MIGRAINE, OR FACIAL PAIN AND ARE LOOKING FOR ANSWERS ON ANYTHING RELATED TO IT, A HEADACHE SPECIALIST IS HERE TO HELP, FOR FREE!
FIRST, LET'S DECIDE WHERE TO START:
IF YOU HAVE AN EXISTING HEADACHE, MIGRAINE, OR FACIAL PAIN DIAGNOSIS AND ARE LOOKING FOR THE LATEST INFORMATION, HOT TOPICS, AND TREATMENT TIPS, VISIT OUR FREE BLOG OF HOT TOPICS AND HEADACHE TIPS HERE. THIS IS WHERE I WRITE AND CONDENSE A BROAD VARIETY OF COMMON AND COMPLEX  MIGRAINE AND HEADACHE RELATED TOPICS INTO THE IMPORTANT FACTS AND HIGHLIGHTS YOU NEED TO KNOW, ALONG WITH PROVIDING FIRST HAND CLINICAL EXPERIENCE FROM THE PERSPECTIVE OF A HEADACHE SPECIALIST.
IF YOU DON'T HAVE AN EXISTING HEADACHE, MIGRAINE, OR FACIAL PAIN DIAGNOSIS AND ARE LOOKING FOR POSSIBLE TYPES OF HEADACHES OR FACIAL PAINS BASED ON YOUR SYMPTOMS, USE THE FREE HEADACHE AND FACIAL PAIN SYMPTOM CHECKER TOOL DEVELOPED BY A HEADACHE SPECIALIST NEUROLOGIST HERE!
IF YOU HAVE AN EXISTING HEADACHE, MIGRAINE, OR FACIAL PAIN DIAGNOSIS AND ARE LOOKING FOR FURTHER EDUCATION AND SELF-RESEARCH ON YOUR DIAGNOSIS, VISIT OUR FREE EDUCATION CENTER HERE.