Most people experience a headache sooner or later. Generally, a headache does not constitute a serious medical issue but is connected and may be a symptom of sinus infections, a head cold, or more commonly the flu.
In some cases, however, a headache can be a symptom of another medical issue, and perhaps a serious condition. Any headache should always be discussed with your doctor.
Dehydration can cause chronic or episodic headaches. It is a condition that occurs when you lose liquids and don't replace them. Consequently, your body will have inadequate water or liquids and becomes unable to function properly. The average adult's weight is made up of 60% water and the brain is 80% water. So, you can see how important it is to remain well-hydrated.
Headaches, especially chronic ones, merit a medical diagnosis, but it's important to know that headaches caused by dehydration can be effectively and easily remedied. Migraine headaches are commonly triggered by dehydration as well.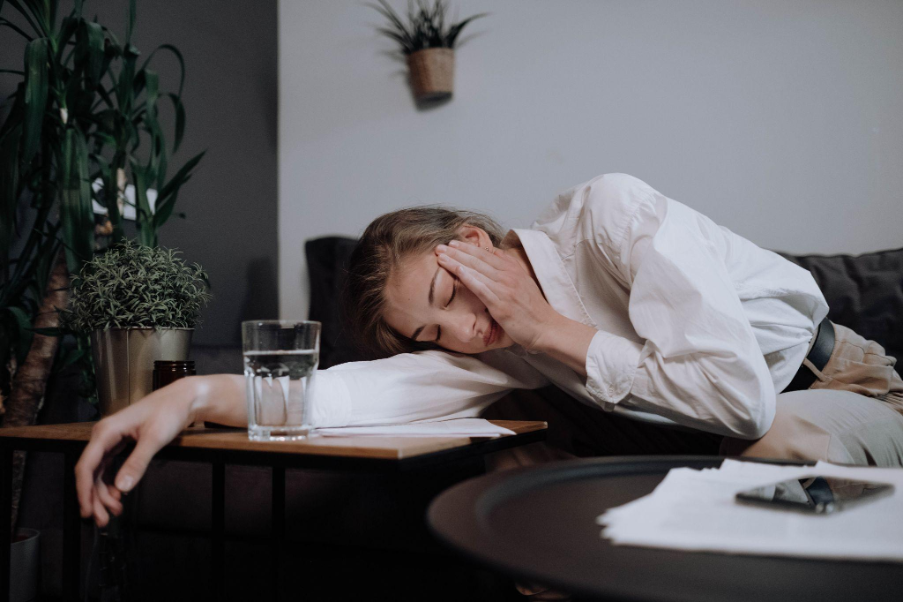 Dehydration Headache Causes
The human body needs to achieve a balance of electrolytes and fluids to function. Consider that your body loses fluids throughout the day during urination and perspiration. This water supply is replaced when you eat and drink. Occasionally, the flu or infection can compromise this when accompanied by a fever, vomiting, or diarrhea. Excessive or heavy perspiration can also contribute to an imbalance in fluids and electrolytes.
With an imbalance of this type, headaches due to dehydration can occur. While the brain itself does not possess pain receptors, in dehydrated people, the brain can contract from a loss of liquid temporarily. It is suspected that headache pain is triggered by receptors in the brain lining. The contraction causes the brain to move inward away from the skull, pulling the meninges and causing a headache and pain. When you replace your water supply, the brain will stop contracting and return to its hydrated state which will bring headache relief.
What do Dehydration Headaches Feel Like?
Dehydration headaches may be felt throughout the entire head or can be more intense in the back or front of the head. It rarely will be limited to one side, unless it is a migraine triggered by the dehydration. It is often similar to the achy character of a tension type headache. However, dehydration headaches can also be throbbing, similar to a migraine. Dehydration is in fact one of the most common triggers of a migraine. The headache can intensify if the head is bent forward or moved. It can intensify due to an activity as simple as walking.
Dehydration Headache Symptoms
A typical dehydration headache will generally not be accompanied by pressure, or neck or facial pain. They can be quite severe like a migraine or only mild, and they may be accompanied by other symptoms. Other signs of dehydration may include:
A feeling of dizziness
Confusion
Dark-colored urine or reduced urination
Dry mouth
Excessive or extreme thirst
Fatigue
Increased heart rate
Low blood pressure
Muscle cramps
Passing out (syncope)
Less skin elasticity
Severe dehydration symptoms include:
Delirium
Fever
Inability to perspire
Eyes appear sunken
Skin appears shriveled and dry
Unconsciousness
How to Treat a Dehydration Headache
While treating a dehydration headache is not difficult, the best approach is to avoid dehydration headaches altogether. Dehydration treatment is the key to successfully treating dehydration headache.
If you already suffer from a water-deprivation headache, you need to replace the fluids initially. Drink water to increase your fluid intake. You will also need to replace any lost electrolytes and consuming a sports drink will take care of this. During your headache, reduce your activity and any cause of perspiration.
This type of headache should disappear within an hour or so if you drink a glass or two of water. If you are severely dehydrated, you will need to take in more fluids and lie down until the pain subsides. If vomiting or diarrhea prevents fluid replacement, intravenous fluids may be necessary.
If severe dehydration is present, large volume replacement should be given by IV under medical supervision. Excess water taken in too fast (by drinking or IV) can cause a rare but sometimes debilitating or fatal neurological emergency called central pontine myelinolysis (CPM), depending on the underlying cause of the dehydration. This occurs specifically when sodium levels rise too fast if they are very low, leading to swelling and injury to part of the brainstem called the pons, or other areas in the brain.
Risks for Developing Water Deprivation Headaches (Dehydration Headaches)
While any person can become dehydrated, some may be more at risk than others. People with a higher risk of dehydration include:
The elderly
Infants and children
The chronically ill
People that live at high altitudes or in very hot climates
People that take medications known to increase urination
Athletes, especially in endurance sports
Those involved in physical labor
Preventing Dehydration Headaches
To prevent a dehydration headache from occurring, you'll need to stay hydrated throughout the day. To do so, follow these easy steps.
Drink enough water or fluids throughout the day. So how much is enough water or enough fluids? JUST Water reports, "The U.S. National Academies of Sciences, Engineering, and Medicine recommend approximately 15.5 cups of fluids for men and 11.5 cups of liquids for women as a healthy adult living in a temperate climate." The fluid intake should be spread throughout the day. If you are involved in physical labor or activities or live in an arid or hot environment, you may require more. A good rule of thumb is to drink half of your body weight in ounces of water each day. For example, someone weighing 200 pounds should drink 100 ounces of water daily.
Include food rich in water or fluids in your meals. Fruits and vegetables such as lettuce, cucumbers, or melons all have high water content.
Increase hydration in warmer temperatures. You'll need to drink more to compensate for increased perspiration.
Increase hydration during physical activities and exercise. During physical exertion or sports, you will sweat more, so this loss of fluids needs replacement.
Refrain from drinking beverages containing alcohol or caffeine as these substances will increase urination and increase the risk of dehydration.
Replace fluids if you have a fever, infection, flu, cold, or medical condition as these conditions can cause you to lose more fluid more rapidly. If you are not feeling well, increase your water intake.
Reduce physical activity if you are feeling unwell to prevent the unnecessary loss of liquids.

Complications of Severe Dehydration
Problems connected to dehydration are not limited to headaches. Severe dehydration can contribute to electrolyte disturbances which can lead to fatal arrythmias (irregular heart rhythms), and other emergent medical conditions. Some of these disturbances include:
Hyperkalemia (high potassium)
Hypokalemia (low potassium)
Hypernatremia (high sodium)
Hyponatremia (low sodium)
Hypotension (low blood pressure)
Metabolic acidosis
Metabolic alkalosis
Renal failure
Heat stroke
Further Considerations
With any type of headache or migraine, sufficient fluid intake is a must. Other kinds of headaches may last longer if hydration is insufficient. Should nausea accompany your headache, take a few small sips of water with the onset of the headache.
Replenishing fluids is crucial to the prevention of and treatment of dehydration headaches. Dehydration should never be underestimated as severe dehydration can require hospitalization.
IF YOU HAVE HEADACHE, MIGRAINE, OR FACIAL PAIN AND ARE LOOKING FOR ANSWERS ON ANYTHING RELATED TO IT, A HEADACHE SPECIALIST IS HERE TO HELP, FOR FREE!
FIRST, LET'S DECIDE WHERE TO START:
IF YOU HAVE AN EXISTING HEADACHE, MIGRAINE, OR FACIAL PAIN DIAGNOSIS AND ARE LOOKING FOR THE LATEST INFORMATION, HOT TOPICS, AND TREATMENT TIPS, VISIT OUR FREE BLOG OF HOT TOPICS AND HEADACHE TIPS HERE. THIS IS WHERE I WRITE AND CONDENSE A BROAD VARIETY OF COMMON AND COMPLEX  MIGRAINE AND HEADACHE RELATED TOPICS INTO THE IMPORTANT FACTS AND HIGHLIGHTS YOU NEED TO KNOW, ALONG WITH PROVIDING FIRST HAND CLINICAL EXPERIENCE FROM THE PERSPECTIVE OF A HEADACHE SPECIALIST.
IF YOU DON'T HAVE AN EXISTING HEADACHE, MIGRAINE, OR FACIAL PAIN DIAGNOSIS AND ARE LOOKING FOR POSSIBLE TYPES OF HEADACHES OR FACIAL PAINS BASED ON YOUR SYMPTOMS, USE THE FREE HEADACHE AND FACIAL PAIN SYMPTOM CHECKER TOOL DEVELOPED BY A HEADACHE SPECIALIST NEUROLOGIST HERE!
IF YOU HAVE AN EXISTING HEADACHE, MIGRAINE, OR FACIAL PAIN DIAGNOSIS AND ARE LOOKING FOR FURTHER EDUCATION AND SELF-RESEARCH ON YOUR DIAGNOSIS, VISIT OUR FREE EDUCATION CENTER HERE.