Allergies and Sinus Headache
Do you have a bad headache along with throbby sinus pressure, facial pressure, facial pain, sinus pain, nasal congestion, nasal drainage, postnasal drip, and/or sore throat? It must be a sinus headache, right? Sure, it's possible if there is a true sinus infection going on. However, the majority of the time it isn't.
Now if these symptoms are associated with fevers, nasty colored drainage, and other infectious symptoms, there could certainly be a sinus infection and sinus related headache. However, without these infectious types of symptoms (fever, nasty colored drainage, signs of infection), the most likely cause is actually migraine… especially if there is any throbbing, nausea, sensitivity to light or sound. 
Yes, those several monthly headaches you get with sinus pressure and congestion are probably not recurrent sinus headaches or sinus infections. They are most likely migraine, especially if there is a recurrent pattern such as monthly occurrence. Allergies (and associated sinus symptoms) are not felt to be a common cause of headache, and most of the time those symptoms actually represent migraine. If your sinus headache has features including throbbing, pounding, pulsating pain, nausea, or sensitivity to light and sound, it easily fits criteria for migraine, and should be treated as such. However, a discussion with your doctor is always recommended to ensure there is not an associated sinus infection or other cause of the headache. Your doctor should always be the one making treatment recommendations based on their assessment.
You can read about the differences between "sinus headache" and migraine here.
With that said, it is still possible that allergies can cause headaches for some patients due to the inflammation involved. The second half of this blog towards the end will address the connection between allergies, headaches, and jaw pain.
Sinus Headache and Migraine Misdiagnosis and Mistreatment
The bottom line is that migraine is commonly misdiagnosed as a "sinus headache" by patients, physicians, and other medical professionals when there are sinus symptoms present. Unfortunately, what we end up seeing in the headache clinic are patients with a history of excess unnecessary antibiotics, sinus procedures, and minimal to no relief. By the time patients see us, they have often had sinus surgeries, which surprise, don't help them. Improvement usually doesn't begin until the headaches and sinus symptoms are treated as migraine.
Sometimes patients report their "sinus headaches" improve with these repeated courses of antibiotics, but this doesn't confirm a sinus infection. Many antibiotics have anti-inflammatory effects, and it is often this effect on the headache that is being felt rather than an infection being treated. In addition, unnecessary excess antibiotics lead to antibiotic resistance. So, when you actually do need that antibiotic for an infection it may no longer be effective against that bacteria (and remember, most upper respiratory infections are viral, which antibiotics will have no effect on anyway). C-difficile (C-diff) infection (which can be deadly) is another complication of antibiotic use in some patients, so the less unnecessary gamble of antibiotic use the better.
There is a rare and controversial type of facial pain called mucosal contact point headache. This type of pain is typically localized to a smaller area in the face, rather than a headache elsewhere. So it is more of a facial pain than a headache. It is suspected to be caused by a severe nasal septal deviation where part of the nasal septum contacts the nasal mucosa across from it. or pressure on the nasal walls and headache. This has also been called rhinogenic headache.
How Does Migraine Cause Sinus Symptoms?
The reason for this common misdiagnosis of "sinus headache" is because the trigeminal nerve (cranial nerve 5) is the root cause and central to migraine, and it also innervates the sinuses, teeth, TMJ (temporomandibular joint) area, and the face. So if the migraine is activated and turned on, not only does the pain of the headache turn on, but so does the discomfort in the sinus areas, TMJ, teeth, along with sinus symptoms. The bottom line, if you get recurrent episodic headaches that have any throbby, pulsating or pounding pain, any nausea, or sensitivity to light and sound during a bad "sinus headache", consider it migraine.
How Often is Migraine Misdiagnosed as Sinus Headache?
A study of almost 3,000 patients with self-diagnosed or doctor diagnosed sinus headaches showed that 88% of the patients actually had migraine according to ICHD3 criteria, not sinus headaches! The most common sinus symptoms reported in that study were sinus pressure (84%), sinus pain (82%), and nasal congestion (63%).
Another study called the American Migraine Study II showed similar results. This was a study involving 30,000 patients. About 50% of patients who were eventually diagnosed with migraine had been previously misdiagnosed, and the most common prior misdiagnosis was sinus headache.
Yet another study that looked at 100 patients with self-diagnosed sinus headaches. After a detailed history and exam, patients were given headache diagnoses based on the ICHD3 criteria. Of the 100 patients with self-diagnosed headache, 86% were diagnosed with a migraine related headache disorder, rather than a sinus related headache.
Is There a Connection Between Allergies and Jaw Pain?
Occasionally, Virtual Headache Specialist will allow guest bloggers to write an article on a migraine related topic, or collaborate with another website or company to further disperse useful medical knowledge. Sinus headache, allergies, jaw and facial pain are very relevant migraine associated topics. So, the second half of today's blog topic in the section below was written by a guest author, whereas I wrote the section above. I hope the following article provides additional useful information on allergies, sinuses, and how they may relate to jaw and facial pain. The article below is a collaboration with the Zyrtec website given their allergy expertise on this topic.
While many people are aware of the fact that allergies can lead to headaches and sinus pain, they may be surprised to learn that allergies can also cause jaw pain. This can present as tender cheeks, pain radiating to your jaw and teeth, or even discomfort on the top of your head, and often feels worse when you lay down and better when you're upright.
But why?
Basically, it's all about the sinuses. We have four pairs of sinuses (frontal, ethmoid, maxillary, and sphenoid), and sinus pressure and pain in any of them can radiate all over your face — including your jaw. That's why keeping your sinuses healthy by using a nasal spray, treating your allergies, and rinsing your sinuses with a saline rinse can be so helpful. Eating a healthy diet, exercising, and catching some solid zzz's each night will also benefit your sinus health. Learn more ways to show your sinuses some love in the infographics below!
By Kristen Stewart
When you experience jaw pain, your mind may jump to reasons such as teeth grinding or toothaches. By going for the obvious, however, you may overlook something as simple as allergies causing your jaw pain. Keep reading to uncover how allergies can cause jaw pain. First, to help you determine if you may be suffering from allergies, here's a quick primer on what allergies are, what causes them, and who's most at risk of getting them.
IS IT ALLERGIES OR A COLD?
Allergies affect more than 50 million people in the United States each year, with many individuals suffering from allergic rhinitis. Also known as hay fever, its symptoms are as common as they are annoying — sneezing, runny nose, and itchy, watering eyes to name a few.1
While some symptoms overlap between allergies and a cold, you may notice some key differences. Colds are contagious and people often unwittingly infect others for two days before symptoms appear. A low-grade fever and aches and pains may accompany them. This common illness may also develop gradually over a couple days.2
On the other hand, viruses don't cause allergies, so you can't pass allergies on to anyone else. They occur when the body initially encounters a normally harmless substance and creates antibodies to it. When the body encounters the substance again, the existing antibodies tell the immune system to send chemicals such as histamine into the bloodstream to fight the invader. The immune response causes unpleasant allergy symptoms, and they often come on suddenly rather than gradually.3 Take our allergies versus cold quiz to find out which one you have.
ALLERGY CAUSES AND RISK FACTORS
Allergic rhinitis typically comes in two forms:  seasonal and perennial. As its name suggests, seasonal allergies strike at predicted times of the year, most often in the spring, summer, or early fall. The main culprits tend to be pollens from grasses, trees, and weeds as well as mold spores transported through the air.
People with perennial allergies suffer all year. Triggers tend to be exposures encountered during everyday life such as animal dander, dust mites, cockroaches, or mold spores rather than outdoor greenery or conditions.4
While allergies are more likely to strike during childhood, they can develop at any time during a person's lifetime. Reactions can vary from minor to severe.5
Unfortunately, you can't control most of the risk factors for developing hay fever. People with existing allergies, asthma, or eczema are more likely to have hay fever. And if a parent, sibling or other blood relative has allergies or asthma, your chance of getting hay fever increases. But you can control one risk factor by spending less time exposed to allergens like animal dander or dust mites.
ALLERGIES, SINUSES, AND HOW THEY CAN CAUSE JAW PAIN
As any sufferer knows, allergies can wreak havoc on your body. In addition to the well-known sneezing, sniffling, and red watering eyes, you may experience postnasal drip, coughing, and fatigue.6 Allergies can also clog the sinuses. Because of that, they could be the source of your nagging jaw pain.7
You probably identify sinus problems with nasal pressure. But allergies can cause lower jaw pain as well as the feeling of general pressure, especially if maxillary sinuses are obstructed. Inflamed and swollen sinuses can affect a number of areas of the face and head and result in issues ranging from headaches and earaches to facial tenderness near the eyes and nose that radiates to the jaw.8
It's possible that seasonal allergies could cause jaw pain in other ways, although more research is needed on the subject. Frequent sneezing and coughing force the mouth open which could lead to muscle tension and overuse strain and create issues with the jaw. Similarly, a stuffy nose may make you breathe through your mouth at night. If your jaw is strained open all night, it makes sense that you could wake up with jaw discomfort.9

And for people who have a temporomandibular joint disorder (diagnosed or not), it's possible that allergies could exacerbate it and cause increased jaw pain. However, the sinuses are the key way allergies cause jaw pain.
THE SINUSES EXPLAINED
Many parts of the body get a lot of love. We try to eat right and exercise for our hearts and stay engaged with life mentally and socially to keep our minds sharp as we age. But people often neglect their sinuses. The sinuses may only become your focus of attention if a problem occurs. But it's worth understanding more about your sinuses, and that's especially true if you experience jaw pain, because sinus pressure and pain can radiate all over the face.
Sinuses are also called paranasal sinuses. They're air-filled pockets or cavities in the skull and facial bones that connect to the nose through an opening known as an ostium.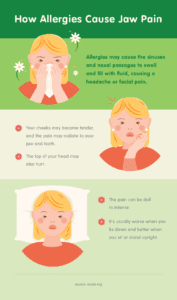 Usually when we hear about cavities, it's when we get bad news at the dentist's office, but sinus cavities are our allies. Check out our 6 Things to Know About Sinuses page to learn about the remarkable role they play to keep us well and healthy.
Like many parts of the body, sinuses aren't immune from issues. Allergic sinusitis typically comes with the usual allergy symptoms such as sneezing, nasal congestion, and itchy eyes, nose, and throat.10 Allergy headaches can also occur with facial discomfort in the sinus area. Pain can be located throughout the region or sometimes located on just one side.11
KEEPING SINUSES HEALTHY
The good news is you can take steps to keep your sinuses healthy, which may help alleviate and prevent jaw pain. One action you can take is to manage allergies to keep your symptoms under control. Allergies can cause inflammation of the nose and sinuses which in turn blocks mucus from draining and may lead to an infection.
In addition, consider using nasal saline sprays to keep your nose moist. This practice ensures the cilia will work at their optimum level to clear the airways and remove debris. You may also want to irrigate your sinuses with a saline sinus wash to add moisture and flush out dust, pollen, and other intruders. 12 13
Beware of irritants such as pollution and smoke. The chlorine found in chlorinated pools may also irritate and inflame your nasal passages and sinuses. If possible, opt to swim in saltwater pools or natural bodies of water to avoid excess exposure to chlorine.14
Maintaining good health overall can also help keep sinus issues at bay. Eat a healthy diet, exercise regularly, get enough sleep, and manage stress to boost the immune system and keep colds and flus at bay. Avoid taking antibiotics or steroids if possible as they disrupt the microbiota in the sinuses and may allow pathogens to proliferate.15Finally, it may sound obvious but don't forget to wash your hands. Handwashing can play a large role in reducing illness and sinus issues.16

FIND THE RIGHT TREATMENT TO EASE YOUR JAW PAIN
If you have severe or long-lasting jaw pain, you may want to talk to a medical professional. But if you suffer from jaw discomfort and allergies, some simple precautions may help you smile — without pain — in no time.
Kristen Stewart is a freelance writer specializing in health and lifestyle topics. She lives in New Jersey with her husband, three kids and two very needy cats.
**The "Can Allergies Cause Jaw Pain?" section above originated on the Zyrtec website, was written by Kristen Stewart, and is being reshared here for an educational collaboration. The original version can be found here:
https://www.zyrtec.com/allergy-guide/understanding-allergies/symptoms/jaw-pain
[1]https://acaai.org/news/facts-statistics/allergies
[2]https://www.zyrtec.com/allergy-guide/allergy-essentials/allergies-or-cold
[3]https://www.mayoclinic.org/diseases-conditions/hay-fever/symptoms-causes…
[4]https://acaai.org/news/facts-statistics/allergies
[5]https://www.mayoclinic.org/diseases-conditions/allergies/symptoms-causes…
[6]https://www.mayoclinic.org/diseases-conditions/hay-fever/symptoms-causes…
[7]https://acaai.org/allergies/symptoms/allergy-headaches
[8]https://omfs.com.au/patient-information/news-updates/can-allergies-cause…
[9]https://www.newsmile4u.com/blog/allergy-symptoms-can-hide-tmj/
[10]https://www.cedars-sinai.edu/Patients/Health-Conditions/Allergic-Sinusit…
[11]https://acaai.org/allergies/symptoms/allergy-headaches
[12]https://blogs.bcm.edu/2014/06/25/ten-tips-to-avoid-sinus-infections/
[13]https://medlineplus.gov/ency/patientinstructions/000801.htm
[14]https://blogs.bcm.edu/2014/06/25/ten-tips-to-avoid-sinus-infections/
[15]https://www.nature.com/articles/s41598-019-53975-9
[16]https://www.cdc.gov/handwashing/why-handwashing.html
IF YOU HAVE HEADACHE, MIGRAINE, OR FACIAL PAIN AND ARE LOOKING FOR ANSWERS ON ANYTHING RELATED TO IT, A HEADACHE SPECIALIST IS HERE TO HELP, FOR FREE!
FIRST, LET'S DECIDE WHERE TO START:
IF YOU HAVE AN EXISTING HEADACHE, MIGRAINE, OR FACIAL PAIN DIAGNOSIS AND ARE LOOKING FOR THE LATEST INFORMATION, HOT TOPICS, AND TREATMENT TIPS, VISIT OUR FREE BLOG OF HOT TOPICS AND HEADACHE TIPS HERE. THIS IS WHERE I WRITE AND CONDENSE A BROAD VARIETY OF COMMON AND COMPLEX  MIGRAINE AND HEADACHE RELATED TOPICS INTO THE IMPORTANT FACTS AND HIGHLIGHTS YOU NEED TO KNOW, ALONG WITH PROVIDING FIRST HAND CLINICAL EXPERIENCE FROM THE PERSPECTIVE OF A HEADACHE SPECIALIST.
IF YOU DON'T HAVE AN EXISTING HEADACHE, MIGRAINE, OR FACIAL PAIN DIAGNOSIS AND ARE LOOKING FOR POSSIBLE TYPES OF HEADACHES OR FACIAL PAINS BASED ON YOUR SYMPTOMS, USE THE FREE HEADACHE AND FACIAL PAIN SYMPTOM CHECKER TOOL DEVELOPED BY A HEADACHE SPECIALIST NEUROLOGIST HERE!
IF YOU HAVE AN EXISTING HEADACHE, MIGRAINE, OR FACIAL PAIN DIAGNOSIS AND ARE LOOKING FOR FURTHER EDUCATION AND SELF-RESEARCH ON YOUR DIAGNOSIS, VISIT OUR FREE EDUCATION CENTER HERE.