According to the World Health Organization, headaches are a global problem, affecting people of all races, income levels, and regional areas. Headache disorders impact about 50% of people worldwide. Moreover, it is estimated that 50% to 75% of adults aged 18 to 65 have suffered from a headache or a migraine within the last year. A smaller percentage of people worldwide, 1.7% to 4%, have headaches that last for two weeks or longer. Let's take a look at the four different types of headaches, what causes them, and some common treatments that may relieve them.
The Four Different Types of Headaches
There are, in fact, 150+ different types of headaches. However, the four most common types of headaches are: tension headaches, migraine headaches, sinus headaches, and cluster headaches.
What Are Tension Headaches?
Tension headaches typically are moderate to mild in nature and can be best described as feeling like a tight band around one's head. By and far, these are the most common types of headaches and their origins are not well understood.
Common symptoms include a dull, aching, pressure pain in both sides of your head; tightness in your forehead, sides, and back of your head; and muscle soreness in your shoulder, neck, and scalp. They can not be a throbbing pain. If there is any throbbiness to the headache, it takes it out of tension type headache criteria and moves it into migraine criteria. Tension type headaches are not worsened by physical activity, in contrast to migraine which are. Tension type headaches should not be associated with nausea or vomiting, in contrast to migraine which can be. There may be some mild sensitivity to light (photophobia) or sound (phonophobia), but tension type headache should not have both. In contrast, migraine requires both features.
What Are Sinus Headaches?
Sinus headaches are usually indicated by pressure around your eyes, cheeks, and forehead, along with fever and nasty nasal discharge. You may also experience a throbbing forehead. However, these features can also be consistent with migraine because in general, any type of throbbing pain places the headache into the migraine category. In fact, there was a large study done in the past in which almost all of the patients with either self-diagnosed or physician-diagnosed sinus headache turned out to actually be migraine headache.
Migraine also activates the sinus pathways and cavities and can cause referred pain into the teeth and TMJ areas. So for many patients, their migraines include a lot of sinus type symptoms. Therefore, it is easy to see how migraine often gets mistaken for sinus headache. For some people with true sinus headache, they feel like a sinus infection. Historically, the existence of true "sinus headaches" has been a debatable topic, and it's presence generally revolves around whether there is an ongoing sinus infection or not. If there is, this can certainly be a source of headache, and it is typically associated with fevers and drainage (often colored, purulent discharge).  Some common symptoms include:
Fatigue
A stuffy sensation in your nose
Pain and pressure in your cheeks, brows, and forehead.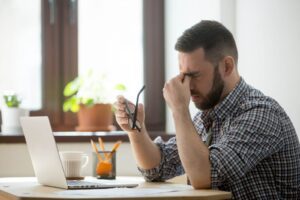 What Are Cluster Headaches?
Cluster headaches are called as such because they happen over cyclic time frames or "clusters." These types of headaches can wake you up in the middle of the night and they frequently happen on one side of your head or near an eye. The pain of cluster headaches is severe, and they have been termed "suicide headaches" because of the severity of the pain. Cluster headaches are more rare than other types of headaches. Some symptoms include:
Pain that is situated around or behind one eye
One-sided pain, versus other headaches where the sensation of pain is often more global
Stuffy or runny nose on the side of your head that hurts
Red and tearing eye on the side of the head that is impacted
Restlessness
What Are Migraine Headaches?
Migraine headaches, according to some patients, are the worst type of headache. These types of headaches are characterized by a throbbing sensation, most commonly one one side of the head, but can also be both sides. Additionally, they often come with nausea, sometimes vomiting, and a sensitivity to light and sound. Migraines come in stages, but not everyone goes through all the stages.
The stages of migraines include:
Prodrome: Some mild symptoms that indicate an oncoming migraine attack, including neck stiffness, moodiness, food cravings, and other subtle symptoms. This may occur even a day or more before the attack starts.
Aura: Seeing bright lights or various shapes, numbness and tingling, speech disturbances, overall weakness, and other symptoms that happen right before or during the onset of a migraine. About 25% of patients get aura (classic migraine), while 75% get no aura (common migraine).
Attack: During a migraine attack, migraine sufferers typically experience the worst symptoms, including pain on one side of the head, nausea, and other symptoms. A migraine attack itself can last for up to 72 hours.
Post-Drome: After the migraine, people tend to experience tiredness and sudden head movement can bring on some pain. At this stage, people report excess fatigue, generalized soreness, and commonly report feeling like they were "hit by a bus".
Migraines can be read about in much more detail here.
Common Questions About the Various Types of Headaches
What causes the various different types of headaches?
There is not a singular known medical cause for headaches. Primary headaches are when the headache itself is the primary health issue that the sufferer is dealing with. Secondary headaches are those that are caused by a medical condition (such as a brain tumor). Let's take a look at what the most common causes are for the various types of headaches:
Tension headaches: These can be caused by stress, depression, injury, or other issues.
Sinus headaches: These headaches are most commonly caused by sinusitis and allergies.
Cluster headaches: The exact cause of cluster headaches are unknown, but it may have something to do with biological processes since cluster headaches are cyclical.
Migraines: As with other types of headaches, there migraines don't have a clear cause. Common suspected causes include hormones, diet, dehydration, and other physical or lifestyle factors.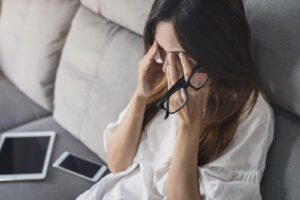 When should you seek medical attention/advice for any type of headache?
You should seek medical attention/advice when you have any type of headache. Sometimes, a headache may be indicative of a larger medical problem. At least one visit with your doctor is recommended for any type of headache because even secondary headaches (caused by a medical condition) can sometimes present as a standard primary type of headache. A visit with your doctor may uncover additional information from a more detailed history during questioning and neurological physical exam. Repeat headaches can impact the quality of your life and should be treated. Sometimes, your regular doctor may not know how to adequately deal with a headache. Some doctors are especially trained to deal with headaches, specifically headache specialists
.
What type of headaches should a headache sufferer worry about?
Generally speaking, any type of headache should be a cause for concern. However, there are certain situations where headaches may be indicative of a larger, more serious medical issue. Headaches associated with the following symptoms should be a cause for concern:
A high fever, chills, night sweats, neck stiffness
The sudden onset of very intense headache pain (thunderclap headache) with peak headache intensity in less than a minute
Fainting, disorientation, or loss of balance or equilibrium
Weakness on any side of the body or any other neurological symptoms including visual loss or vision changes, double vision, trouble swallowing, numbness, tingling, speech disturbances (slurred speech, trouble getting words out, trouble understanding speech), vertigo, behavioral or personality changes
Nosebleeds
Pulsatile tinnitus or papilledema (swelling of optic nerve on eye exam)
Other issues, such as weight loss, vision issues, jaw cramping, and other factors
History of cancer, immunosuppression, HIV
New onset headaches under age 5 or over age 50
Headaches triggered by Valsalva maneuvers (coughing, straining, laughing, bending forward, exertion, exercise, sexual activity, bearing down such as during a bowel movement)
Progressive worsening and changing of headaches into a higher frequency or daily frequency
Postural worsening of headache (worsens when standing and improves when lying down, or worsens when lying down, improves when standing up)
What are some common tests for the more serious types of headaches?
Some headaches, such as cluster headaches, are not commonly understood. Other types of headaches may have an underlying cause. If you see a neurologist or other medical specialist, you might experience some of the following tests for them to better diagnose and understand the underlying cause of your headache:
Eye & ear exam
CT scan
MRI scan
EEG scan
Blood and spinal fluid tests
A headache specialist will often try and get access to your medical records and history so that they can better treat your condition.
Which type of doctor commonly deals with the various types of headaches?
Neurologists are the most common type of specialized doctor that headache sufferers see. However, they will often refer to a headache specialist for more complex headache and facial pain disorders, or if treatments are not helping the patient. General medical practitioners may be able to make a referral and provide some basic treatment, as they are often the first line of headache evaluations. On occasion, an ENT doctor may provide treatment for secondary headaches that are related to sinus and ear issues.
IF YOU HAVE HEADACHE, MIGRAINE, OR FACIAL PAIN AND ARE LOOKING FOR ANSWERS ON ANYTHING RELATED TO IT, A HEADACHE SPECIALIST IS HERE TO HELP, FOR FREE!
FIRST, LET'S DECIDE WHERE TO START:
IF YOU HAVE AN EXISTING HEADACHE, MIGRAINE, OR FACIAL PAIN DIAGNOSIS AND ARE LOOKING FOR THE LATEST INFORMATION, HOT TOPICS, AND TREATMENT TIPS, VISIT OUR FREE BLOG OF HOT TOPICS AND HEADACHE TIPS HERE. THIS IS WHERE I WRITE AND CONDENSE A BROAD VARIETY OF COMMON AND COMPLEX  MIGRAINE AND HEADACHE RELATED TOPICS INTO THE IMPORTANT FACTS AND HIGHLIGHTS YOU NEED TO KNOW, ALONG WITH PROVIDING FIRST HAND CLINICAL EXPERIENCE FROM THE PERSPECTIVE OF A HEADACHE SPECIALIST.
IF YOU DON'T HAVE AN EXISTING HEADACHE, MIGRAINE, OR FACIAL PAIN DIAGNOSIS AND ARE LOOKING FOR POSSIBLE TYPES OF HEADACHES OR FACIAL PAINS BASED ON YOUR SYMPTOMS, USE THE FREE HEADACHE AND FACIAL PAIN SYMPTOM CHECKER TOOL DEVELOPED BY A HEADACHE SPECIALIST NEUROLOGIST HERE!
IF YOU HAVE AN EXISTING HEADACHE, MIGRAINE, OR FACIAL PAIN DIAGNOSIS AND ARE LOOKING FOR FURTHER EDUCATION AND SELF-RESEARCH ON YOUR DIAGNOSIS, VISIT OUR FREE EDUCATION CENTER HERE.