Migraines can be debilitating and highly disruptive to everyday life – but what if you experienced migraine symptoms without intense pain? This is a silent migraine and affects one in ten people with migraines. While it may sound like a blessing compared to traditional migraines, having cyclic vomiting syndrome (CVS), abdominal migraine, sudden visual loss, numbness, or speech disturbance can cause distress just as significantly. With this in mind, read for more information about silent migraines, such as common symptoms, triggers that may worsen episodes, and potential ways to manage them.
What are Silent Migraines?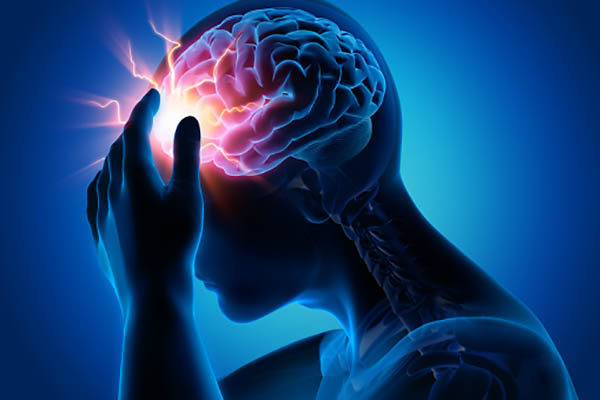 A silent migraine is a neurological disorder that affects millions of people worldwide. It's also known as an "acephalgic migraine," meaning it does not produce any headache. Migraine aura without headache is another term for this migraine variant. Migraine is an electrical event in the brain. So think of silent migraine as the electrical neurological symptoms of a migraine minus the headache.
Symptoms of Silent Migraines
Silent migraines are headaches characterized by symptoms such as vision disturbances, nausea, dizziness, tingling sensations in the head or face, and speech disturbances. These symptoms are similar to those of more traditional migraines but with one key difference: silent migraines cause no pain.
Silent migraines can be complicated to diagnose because the symptoms can be so mild that they go unnoticed. In addition, most people suffering from silent migraines do not experience any aura or warning sign before the onset of their symptoms.
How Silent Migraines Can Be Difficult to Diagnose
Unlike traditional migraines, which can last for hours or days at a time and are often triggered by stress or hormonal changes in women, silent migraines may occur infrequently, and their triggers are often more challenging to pinpoint. They are thought to alter the brain's electrical activity, which can cause disruptions in blood flow (secondary to decreased brain metabolism) to specific brain parts.
Diagnosing silent migraines can be challenging because no diagnostic test is available; doctors must rely on patients' detailed descriptions of their symptoms to diagnose. They can often mimic symptoms of TIA or stroke, and these disorders must always be considered and excluded first. Treatment options for silent migraines vary depending on the individual. Still, they typically include medications such as triptans or gepants to reduce inflammation associated with headaches and avoid possible triggers like certain foods, lack of sleep, and stress.
Types of Symptoms That May Be Experienced With Silent Migraines
A typical migraine usually comes with pain, intense throbbing, or pulsing sensation in one area of the head, along with other symptoms such as nausea and sensitivity to light and sound. In contrast, silent migraines do not cause these types of headaches.
Instead, they are characterized by other neurological symptoms like dizziness, confusion, difficulty concentrating and speaking, numbness or tingling throughout the body, visual aura (such as flashing dots, colors, shapes, zig-zag wavy lines, vision loss, etc.), and other sensory disturbances. Some people also experience fatigue or extreme exhaustion after a silent migraine attack has passed.
Triggers for Silent Migraines
The triggers for silent migraines are similar to those that cause regular migraine headaches.
Common Triggers for Silent Migraines
Common triggers include stress and anxiety, certain foods (such as aged cheeses and processed meats), hormonal changes in women (especially during pregnancy or menopause), and exposure to bright lights or loud noises. Certain medications can also trigger silent migraines. Even minor changes in their daily routine can trigger an attack on some people.
To reduce the frequency of attacks, individuals must identify any potential triggers for their silent migraines and then avoid or manage them accordingly. It is also vital for individuals suffering from silent migraines to discuss treatment options with their physician; this may involve taking medications such as triptans or anti-inflammatory drugs or using relaxation therapies such as yoga and meditation. Some medical professionals may also recommend lifestyle changes such as reducing stress levels and getting adequate sleep each night.
How to Identify Personal Triggers
Silent migraines can be challenging to diagnose and treat since the symptoms are so varied. However, there are a few steps you can take to help identify potential triggers for your distinctive headache attacks. Start by keeping a detailed symptom diary that includes when the headaches occur, how long they last, the intensity of any pain experienced, what preceded the attack, and any other associated factors.
Additionally, pay attention to your environment and lifestyle habits, as certain things can increase migraine risks, such as lack of sleep or dehydration. Finally, consider working with a healthcare provider to discuss treatments that might be beneficial for you.
Tips for Managing and Avoiding Triggers to Reduce the Frequency of Silent Migraines
Develop a consistent sleep schedule and get at least 7-8 hours of sleep each night.
Avoid foods that trigger migraines, such as salty or processed food, alcohol, caffeine, and artificial sweeteners.
Take regular breaks from activities that involve intense concentration or movement throughout the day.
Exercise regularly to reduce stress and improve overall physical health.
Practice relaxation techniques such as mindfulness or yoga to help stay calm throughout the day.
Avoid environmental triggers like strong smells, bright lights, and loud noises whenever possible.
Drink plenty of water throughout the day to stay properly hydrated.
Find support from family, friends, or a professional counselor to help manage stress and anxiety.
Consider taking preventative medications specifically designed for migraine prevention if necessary.
Talk to your doctor about potential treatment options that may be beneficial in managing silent migraines.
Treatment Options for Silent Migraines
Treatment options for silent migraines are almost similar to treatment for other migraine headaches, particularly in trying to prevent them if they are frequent enough. Magnesium and Vitamin B2 (Riboflavin) have shown benefit in preventing not only migraine, but migraine aura as well. There are no treatments that have been proven to abort aura symptoms though unfortunately. So normal migraine abortives will not usually impact the aura symptoms.
Treatment Options Available for Silent Migraines
Treatment can include lifestyle changes such as avoiding triggers like stress and certain foods or activities which can bring on an attack. Over-the-counter medications such as ibuprofen or acetaminophen may help reduce any pain associated with the headache.
Prescription medications such as triptans may also be prescribed if the headaches become more severe or frequent. Biofeedback therapy and relaxation techniques may also help lessen the frequency and severity of attacks. In some cases, surgery may be recommended if lifestyle changes and medication do not provide adequate relief from symptoms. If the frequency of silent migraine is high and occurs several times per month, then preventive treatments are used.
It is crucial for those who suffer from silent migraines to keep track of their symptoms and triggers so that they can identify patterns that may indicate when an attack is about to occur. Talking to your doctor about your experiences and exploring different treatment options can help ensure that you get the best care possible for your situation.
Benefits and Potential Side Effects of Different Treatment Options
The benefits of lifestyle changes, medications, and relaxation techniques for silent migraines are similar to those for other types of migraine headaches. These treatments can help reduce the frequency and severity of attacks and improve the overall quality of life.
Medications may also be prescribed for some patients; however, discussing potential side effects with your doctor is essential. Side effects of some common migraine medications include nausea, drowsiness, dizziness, and upset stomach. Additionally, those taking triptans or over the counter pain medicines should be aware of the potential for rebound headaches.
Biofeedback therapy and relaxation techniques are also beneficial in managing silent migraines. These treatments may help to reduce stress and improve overall well-being. It is important to discuss potential risks associated with these treatments with your doctor before beginning any therapy.
How to Find the Right Treatment Plan for Managing Silent Migraines
As with any health condition, you must speak to your doctor about the best treatment plan for managing silent migraines. Your doctor can help you identify potential triggers or factors contributing to your condition.
Once these elements have been identified, your doctor can provide a treatment plan tailored to your needs. Your personalized plan may include lifestyle changes or medications like triptans or anti-inflammatory drugs. Relaxation therapies such as yoga and meditation can also be beneficial for managing stress levels which may lead to an attack.
It is important to remember that everyone's experience with silent migraines is different; therefore, finding a treatment plan that works for you is essential. Keep track of your symptoms and triggers so that you can discuss them with your doctor and identify the best possible treatment plan for your individual needs.
Final Words
While most migraine sufferers are aware of their condition, there is another type–the silent variety. Despite research efforts to better understand this disorder and its treatment options, much remains a mystery. Many current treatments fail to relieve these debilitating migraines, which can disrupt one's life subtly without being noticed by others around them. Suppose you think you may be experiencing symptoms associated with silent migraines. In that case, it is imperative to have your doctor examine and diagnose the issue properly so they can advise on proper management techniques before more severe side effects arise due to a lack of attention or care!
IF YOU HAVE HEADACHE, MIGRAINE, OR FACIAL PAIN AND ARE LOOKING FOR ANSWERS ON ANYTHING RELATED TO IT, A HEADACHE SPECIALIST IS HERE TO HELP, FOR FREE!
FIRST, LET'S DECIDE WHERE TO START:
IF YOU HAVE AN EXISTING HEADACHE, MIGRAINE, OR FACIAL PAIN DIAGNOSIS AND ARE LOOKING FOR THE LATEST INFORMATION, HOT TOPICS, AND TREATMENT TIPS, VISIT OUR FREE BLOG OF HOT TOPICS AND HEADACHE TIPS HERE. THIS IS WHERE I WRITE AND CONDENSE A BROAD VARIETY OF COMMON AND COMPLEX  MIGRAINE AND HEADACHE RELATED TOPICS INTO THE IMPORTANT FACTS AND HIGHLIGHTS YOU NEED TO KNOW, ALONG WITH PROVIDING FIRST HAND CLINICAL EXPERIENCE FROM THE PERSPECTIVE OF A HEADACHE SPECIALIST.
IF YOU DON'T HAVE AN EXISTING HEADACHE, MIGRAINE, OR FACIAL PAIN DIAGNOSIS AND ARE LOOKING FOR POSSIBLE TYPES OF HEADACHES OR FACIAL PAINS BASED ON YOUR SYMPTOMS, USE THE FREE HEADACHE AND FACIAL PAIN SYMPTOM CHECKER TOOL DEVELOPED BY A HEADACHE SPECIALIST NEUROLOGIST HERE!
IF YOU HAVE AN EXISTING HEADACHE, MIGRAINE, OR FACIAL PAIN DIAGNOSIS AND ARE LOOKING FOR FURTHER EDUCATION AND SELF-RESEARCH ON YOUR DIAGNOSIS, VISIT OUR FREE EDUCATION CENTER HERE.