A complex migraine, such as chronic or hemiplegic migraine, is a type of headache disorder characterized by recurrent headaches that are often accompanied by neurological symptoms. It is important to understand that the term "complex migraine" is not actually a real diagnosis found in the International Classification of Headache Disorders. It is however a common term used by many in the medical field for migraine attacks which are associated with a variety of neurological features.
These severe headaches can be complex and debilitating, making everyday activities a challenge. Many people manage their migraines with medication, but there is also a role for nutrition and lifestyle changes in managing this condition.
By making some simple changes to your diet and lifestyle, you may be able to reduce the frequency and severity of your migraines.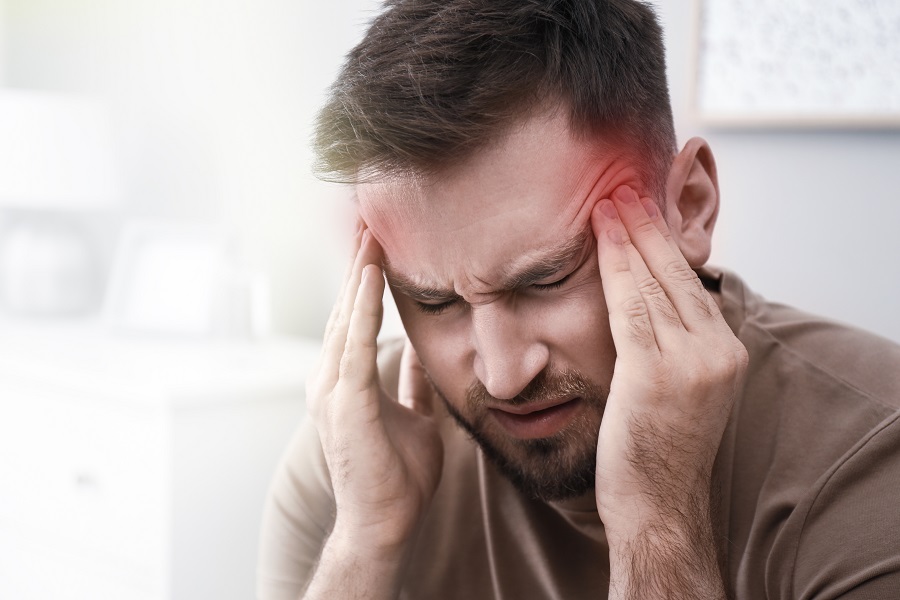 Understanding Complex Migraine
The exact cause of complex migraines is not fully understood, but they are thought to be related to a combination of genetic, environmental, and lifestyle factors. In this article, we will learn all about migraine, their symptoms, and the role of diet and nutrition in helping manage the symptoms of migraines.
Complex migraine and its symptoms
 Complex migraine is often severe and may last for hours or even days. It's a type of headache condition that has multiple symptoms, including:
Visual disturbances
Aura
Vertigo
Sensitivity to light and sound,
Nausea
Vomiting
Numbness or tingling in the extremities and face
Weakness on one side of the body
Confusion and cognitive dysfunction
Difficulty speaking
Difference between complex migraine and other types of migraines
The main difference between complex migraines and other types of migraines is the presence of aura and neurologic symptoms. People with this chronic migraine will experience a visual, sensory, or motor aura before their headache begins. These auras can last anywhere from five to sixty minutes and can range from mild to severe in intensity.
The Impact of Nutrition on Complex Migraines
Good nutrition is important for everyone, but it can especially help those with complex migraine.
Role of diet and nutrition in managing complex migraine symptoms
Certain foods have properties that can reduce the frequency and severity of headaches. Studies suggest that magnesium, omega-3 fatty acids, and riboflavin may help prevent or reduce migraines' intensity.
Specific foods and nutrients that may help or worsen complex migraine symptoms
Magnesium is believed to help relax blood vessels in the brain and influence electrical activity. Low magnesium levels have been linked to an increased risk of migraine headaches in some individuals. Foods high in magnesium include dark leafy greens, nuts and seeds, legumes, avocados, and bananas.
Omega-3 fatty acids are an anti-inflammatory powerhouse! Adding these to your diet may help reduce inflammation in the brain, which can be a major cause of migraine headaches. Delicious foods high in omega-3s include salmon, sardines, walnuts, and more – try adding flaxseed oil or chia seeds for extra flavor punch!
Riboflavin is a B vitamin (vitamin B2) linked to reduced migraine frequency and intensity. Foods high in riboflavin include eggs, dairy products such as milk and cheese, almonds, wheat germ, mushrooms, and spinach.
Lifestyle Changes for Managing Complex Migraines
Making lifestyle changes can also help reduce the frequency or severity of this type of migraine symptom. Stress management is important because stress can trigger migraines in many people. Practices like yoga, meditation, and deep breathing can help you manage stress levels more effectively.
Impact of Stress, Sleep and Exercise on Complex Migraines Symptoms
Stress, lack of sleep, and insufficient exercise can all trigger or worsen complex migraine symptoms.
It is important to try to reduce stress as much as possible and ensure you get enough quality sleep each night.
Exercise can also help reduce the repetition of migraines by helping to regulate your body's hormones and reducing inflammation. Some studies have shown a routine exercise program to be as effective as some of the medicines used for migraine prevention.
Tips for Managing Stress and Improving Sleep Quality
When it comes to managing stress, some simple tips can help. First, set aside time each day for yourself- even 15 minutes of quiet time can make a big difference. Create a daily routine that includes relaxing activities like reading, walking in nature, or listening to music. You can also practice relaxation techniques like deep breathing or yoga.
Getting enough quality sleep is also essential for managing complex migraine symptoms. Make sure you get at least 7-8 hours of uninterrupted sleep every night, and avoid drinking caffeine late in the day, as this can interfere with your ability to get restful sleep.
Many natural remedies, such as herbal teas or magnesium supplements, may help if you have trouble sleeping.
Benefits of regular exercise for managing complex migraine symptoms
Regular exercise can also help reduce the intensity and frequent occurrence of complex migraines. Exercise increases endorphins, natural chemicals in the body that act as pain relievers. It also helps reduce inflammation throughout the body and is a great way to manage stress. Aim for at least 30 minutes of moderate physical activity 3-5 times per week. This could be anything from walking or jogging to yoga or swimming.
Combining Nutrition and Lifestyle Changes for Optimal Migraine Management
Combining nutrition and lifestyle changes is important when managing complex migraine symptoms. Together, these two approaches can help reduce inflammation, regulate hormones, and reduce stress levels which can all contribute to improved migraine management.
A balanced diet full of nutritious foods like dark leafy greens, nuts and seeds, legumes, salmon, eggs, and dairy products will ensure you get the essential vitamins and nutrients your body needs for optimal health.
Incorporating regular physical activity into your routine will also support improved mental well-being as it helps reduce stress levels.
Finally, taking time each day for yourself by engaging in relaxing activities like yoga or meditation is an important part of managing its symptoms.
With the right combination of nutrition and lifestyle changes, it is possible to reduce the frequency and intensity of complex migraine symptoms to gain better control over your health.
Creating a comprehensive plan for managing complex migraine symptoms
Creating a comprehensive plan for managing the severity of symptoms is important because it helps keep you on track and allows you to identify areas of your lifestyle that may need improvement.
Make sure to speak with your doctor or healthcare provider before making any major changes in order to ensure the plan is tailored to meet your specific needs. A good plan will include dietary changes, stress management techniques, exercise regimens, and relaxation activities that are designed to help improve overall health and reduce the frequency or intensity of migraines.
Additionally, it should include regular check-ins with your healthcare provider so they can monitor progress and make changes if needed. With a good plan in place, it is possible to gain better control over such chronic migraine symptoms and live a healthier life.
Ways to combine diet, lifestyle changes, and medication for optimal migraine management
Once you have identified the triggers and causes of your migraines, it's important to create a plan for managing them. This can include lifestyle changes like stress reduction, improving sleep quality, regular exercise, and dietary modifications such as increasing your intake of riboflavin-rich foods.
Combining these approaches can help reduce inflammation, regulate hormones, and improve mental well-being – all leading to more effective migraine management.
There are also other treatments available that may further help reduce complex migraine symptoms, such as migraine preventive prescription medications and behavioral interventions. Speak to your healthcare provider to determine the best treatment plan for you.
Summing It All Up
While there is no cure for complex migraines, making lifestyle changes can play a role in managing the frequency and severity of your symptoms. Identifying and avoiding your triggers is one of the most important things you can do to reduce your risk of migraines.
Stress management techniques like exercise and relaxation therapies can also help. And finally, getting enough sleep is essential for managing migraines, so make sure you're getting at least 7-8 hours per night.
If you're struggling to manage your complex migraine symptoms, talk to your doctor about other treatment options that may be available to you.
IF YOU HAVE HEADACHE, MIGRAINE, OR FACIAL PAIN AND ARE LOOKING FOR ANSWERS ON ANYTHING RELATED TO IT, A HEADACHE SPECIALIST IS HERE TO HELP, FOR FREE!
FIRST, LET'S DECIDE WHERE TO START:
IF YOU HAVE AN EXISTING HEADACHE, MIGRAINE, OR FACIAL PAIN DIAGNOSIS AND ARE LOOKING FOR THE LATEST INFORMATION, HOT TOPICS, AND TREATMENT TIPS, VISIT OUR FREE BLOG OF HOT TOPICS AND HEADACHE TIPS HERE. THIS IS WHERE I WRITE AND CONDENSE A BROAD VARIETY OF COMMON AND COMPLEX  MIGRAINE AND HEADACHE RELATED TOPICS INTO THE IMPORTANT FACTS AND HIGHLIGHTS YOU NEED TO KNOW, ALONG WITH PROVIDING FIRST HAND CLINICAL EXPERIENCE FROM THE PERSPECTIVE OF A HEADACHE SPECIALIST.
IF YOU DON'T HAVE AN EXISTING HEADACHE, MIGRAINE, OR FACIAL PAIN DIAGNOSIS AND ARE LOOKING FOR POSSIBLE TYPES OF HEADACHES OR FACIAL PAINS BASED ON YOUR SYMPTOMS, USE THE FREE HEADACHE AND FACIAL PAIN SYMPTOM CHECKER TOOL DEVELOPED BY A HEADACHE SPECIALIST NEUROLOGIST HERE!
IF YOU HAVE AN EXISTING HEADACHE, MIGRAINE, OR FACIAL PAIN DIAGNOSIS AND ARE LOOKING FOR FURTHER EDUCATION AND SELF-RESEARCH ON YOUR DIAGNOSIS, VISIT OUR FREE EDUCATION CENTER HERE.